Enjoy a beautiful and relaxing 9 hour tour of Yosemite, with highlights including Glacier Point and all of the iconic sites of Yosemite Valley including waterfalls and famous rock formations. Your guide will pick you up from your hotel or an airport or train/bus station. For lunch you will be stopping in the Yosemite Valley at a cafe by Yosemite Falls with a variety of food choices at a reasonable price.
Talen tour
Perfecte kennismaking voor nieuwe bezoekers
Dit maakt u maar eens in uw leven mee
Geleid door een plaatselijke gids
Inclusief alle toegangsprijzen
Ophalen van hotel inbegrepen
Kleine groepstour
Guests will enter at the Southgate entrance of the park. You will stop at Chinquapin and Glacier Point, an overlook with a commanding view of Yosemite Valley, Half Dome, Yosemite Falls and Yosemite's high country. After a short walk to the Point you can look at the valley, Yosemite Falls, Nevada Falls, Vernal Falls, Curry Village, Ahwahnee Lodge, Merced River and breathtaking views of the mountain tops.

At Glacier Point, if you are looking for hiking time, you have the option to travel down 4-Mile Trail. The trail ends on Southside Drive and from there you can take a shuttle or cross the Swinging Bridge and follow the trail to meet back up with your guide at Yosemite Lodge in the Yosemite Valley.

If you choose not to hike, you will continue to drive back to Chinquapin and down to the Yosemite Valley. You'll start from the Tunnel View to see Bridalveil Falls, El Capitan, The Chapel, Sentinel Bridge, Half Dome and Yosemite Falls. The group will take a break here for lunch and walk to base of Yosemite Falls. You can find all types of food and beverages at Yosemite Café for a reasonable price and visit the souvenir gift shops. Afterward you'll visit the meadows in front of El Capitan to see if anyone is rock climbing. From there you will drive along side of Merced River and look at President Roosevelt and John Muir campsite. On the way back you'll stop at The Pioneer Village History Center and also the historical landmark Wawona Hotel where you can view the young sequoias of the park.
---
Selecteer een maand om de beschikbaarheidskalender en vertrekinformatie te bekijken.
Vertrekpunt:
From Fresno- Hotel pickup is provided near the train station, airport area or river park area in Fresno. Hotels in Fresno near Highway 99 are not recommended due to additional distance.
From Oakhurst-
Any hotel in Oakhurst area
Vertrektijd:
Fresno Departure 6-7 am 
Oakhurst Departure 7-8 am 
Most hotels in the area we pickup guests at their hotels
Gegevens terugreis:
Returns to original departure point
---
Klik op de link hieronder als u de prijs en beschikbaarheid wilt controleren op de reisdatum die uw voorkeur heeft. Onze prijzen worden voortdurend bijgewerkt, zodat we u altijd de laagst mogelijke prijs kunnen bieden.
Depart from Oakhurst

Code: TG1

This option allows guests who are staying closer to the Southgate of Yosemite to relax and enjoy the same highlights of Yosemite as our tour from Fresno but with less travel time.

Depart from Fresno

Code: TG2

Guests can be picked up and dropped off at hotels near River Park and Fresno Yosemite International Airport.
---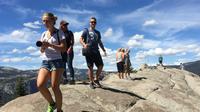 Glacier Point Walk

Inbegrepen:
Entrance fees
Hotel pickup and drop-off
Small-group tour
Bottled water
Niet inbegrepen:
Gratuities (Suggested gratuity is $25 per couple or individual)
Lunch
Aanvullende informatie:
Confirmation will be received at time of booking
Glacier Point is usually closed in winter from November to April. Any of the highlights listed on this tour may be closed due to weather or construction. We will do our best to show alternative sites.
Children must be accompanied by an adult
Child rate applies only when sharing with 2 paying adults
Parents with small children must provide car seats and/or booster seats if necessary.
Infants from 0-1 years must be in the back seat strapped into a rear-facing car seat until they reach 20 pounds
Children between 1-8 years (or heaver than 20 pounds) must be in in the back seat (some exceptions apply) and strapped into either:
- A rear-facing car seat until they reach the maximum height/weight limit for the seat
- A front-facing car seat with a 5 point harness until they reach the maximum height/weight limit for the seat
- A booster seat if under 4 feet 9 inches and over the height/weight limit for a car seat
- A regular seat belt in the back seat if taller than 4 feet 9 inches
Voucherinfo
Voor deze activiteit kunt u een papieren of een elektronische coupon tonen.
Wat is dit?
Informatie lokale operator:
Volledige informatie over de operator, inclusief telefoonnummers op uw bestemming, wordt vermeld op uw bevestigingsvoucher. Onze productmanagers selecteren alleen de meest ervaren en betrouwbare operators op iedere bestemming. Maakt u zich geen zorgen, dit is voor u geregeld.
---
Als u ten minste 7 dag(en) voor het geplande vertrek annuleert, worden er geen annuleringskosten gerekend.
Als u tussen 3 en 6 dag(en) voor het geplande vertrek annuleert, worden er annuleringskosten op basis van 50 procent gerekend.
Als u binnen 2 dag(en) voor het geplande vertrek annuleert, worden er annuleringskosten op basis van 100 procent gerekend.