This 4.5-hour glacier cruise ventures into the calm, protected waters of Prince William Sound, where seasickness is highly unlikely. Visit three active glaciers to watch for spectacular glacier calving, where massive chunks of ice break off crash into the water. Nine alpine and cirque glaciers are visible in the nearby mountains as you cruise. You'll also see breathtaking scenery, waterfalls and wildlife such as harbor seals, sea otters, and seabirds. Your cruise is narrated by a National Forest Ranger. Enhance your experience with the purchase of our Alaska salmon and prime rib buffet.
Talen tour
Beleef de wilde dieren van dichtbij
Zie wilde dieren in hun natuurlijke omgeving
Tour met doorlopend commentaar
Informatieve, vriendelijke en professionele gids
Familievriendelijk
Departing from Whittier, the Blackstone Bay Glacier Cruise travels through Passage Canal and Decision Point on its way to Blackstone Bay, a fjord located in the peaceful waters of Prince William Sound. A fjord is a deep, U-shaped valley that has been formed by glacial erosion. Prince William Sound is located in a temperate rainforest and receives a vast amount of rainfall that feeds the many overflowing waterfalls that you will see in the area.

As you cruise into Blackstone Bay, you'll soon get the first glimpse of the gigantic ice field that feeds the Blackstone, Beloit, and Northland glaciers. Blackstone and Beloit are actively calving tidewater glaciers, which means that they flow from the mountains all the way down into the ocean, where they calve or break off into the water. Northland Glacier is an actively calving hanging glacier; it hangs off cliffs overlooking Blackstone Bay.

As you approach the glacier, you'll begin to see chunks of ice called icebergs floating in the water. You'll come to a stop, floating among the icebergs as the glaciers tower 700 feet above the 77-foot vessel. Here, the captain will turn off the engines so you can hear the ice crack and groan. Often you will see harbor seals and sea otters lounging on the floating ice. You'll spend about an hour watching these glaciers so you have as much time as possible to see them actively calving.

As you head back towards Whittier, watch for sea otters and the numerous amounts of bald eagles that nest along the coastline. Sea otters are the smallest marine mammal in Alaska, weighing 80-100 pounds. They do not have blubber, so to stay warm they have thick fur, with up to 600,000 hair follicles per square inch. Sea otters are one of the few animals that use tools, utilizing rocks to break open the shells of crab, clams, shrimp and other seafood, which they eat 20-25 pounds of each day!

Next, you'll visit Hidden Falls, where the boat stops within feet of the mist of the falls, providing a wonderful photo opportunity. Before ending the cruise you'll visit the second-largest black-legged kittiwake rookery in Prince William Sound, where thousands of black-legged kittiwakes have built their nests on the steep sea-side cliffs. These migratory birds, part of the gull family, travel as far south as Baja California and Costa Rica every year. During the summer they mate, lay eggs, and raise their young in rookeries built into rocky cliffs.

After leaving the rookery you'll return to the Whittier harbor.
---
Selecteer een maand om de beschikbaarheidskalender en vertrekinformatie te bekijken.
Vertrekpunt:
Whittier Boat Harbor
Duur:
4 uur 30 minuten (circa)
Gegevens terugreis:
Return to original departure point
---
Klik op de link hieronder als u de prijs en beschikbaarheid wilt controleren op de reisdatum die uw voorkeur heeft. Onze prijzen worden voortdurend bijgewerkt, zodat we u altijd de laagst mogelijke prijs kunnen bieden.
Glacier Cruise

Code: TG1

Climb aboard the Kenai Star for a memorable cruise to the most spectacular glaciers of Prince William Sound. Visit three actively calving glaciers. Cruise narrated by a Chugach National Forest Ranger.

Glacier Cruise with Buffet

Code: TG2

Climb aboard the Kenai Star for a memorable cruise to the most spectacular glaciers of Prince William Sound. Enjoy our all-you-can-eat Alaska salmon and prime rib meal, served while you cruise.
---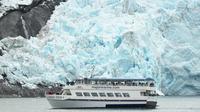 Blackstone Bay Glacier Cruise

Inbegrepen:
Reserved seating in the heated cabin
Water, coffee, and tea
Souvenir book
Use of binoculars
All taxes and fees included
Niet inbegrepen:
Alcoholic drinks (available to purchase)
Hotel pickup and drop-off
Aanvullende informatie:
Confirmation will be received within 48 hours of booking, subject to availability
Operates in all weather conditions; please dress appropriately
Voucherinfo
Voor deze activiteit kunt u een papieren of een elektronische coupon tonen.
Wat is dit?
Informatie lokale operator:
Volledige informatie over de operator, inclusief telefoonnummers op uw bestemming, wordt vermeld op uw bevestigingsvoucher. Onze productmanagers selecteren alleen de meest ervaren en betrouwbare operators op iedere bestemming. Maakt u zich geen zorgen, dit is voor u geregeld.
---
Als u ten minste 7 dag(en) voor het geplande vertrek annuleert, worden er geen annuleringskosten gerekend.
Als u tussen 3 en 6 dag(en) voor het geplande vertrek annuleert, worden er annuleringskosten op basis van 50 procent gerekend.
Als u binnen 2 dag(en) voor het geplande vertrek annuleert, worden er annuleringskosten op basis van 100 procent gerekend.