Carve your way through Whistler's remote backcountry of the Callaghan Valley, site of the 2010 Winter Olympic nordic events, on a mountain snowmobile. Rugged wilderness surrounds you, while you ride through deep forested trails and out across frozen lakes. For a truly unique morning, you can choose to include a stop at a rustic cabin for an authentic Canadian Yukon breakfast, cooked on an old fashioned wood stove.
Talen tour
Carve your way through the backcountry in the Callaghan Valley, where you will be mesmerized by the remote and rugged wilderness that only few get to experience. As you ride through a secret playground, the surrounding Coastal Mountain Range will take your breath away.
If you choose to include breakfast, mid-way through your run you will stop at a rustic cabin for a full Yukon feast including Canadian bacon, Yukon potatoes, eggs, pancakes with real maple syrup and more, all cooked on an old fashioned wood stove. After recharging, head back on the snowmobile to continue your adventure.
Please Note:
Children must be at least 12 years old to ride as a passenger with an adult.
This tour is rated as Intermediate. It is appropriate for adventurous beginners to intermediate drivers. Great mix of moderate terrain.
The tour with Yukon breakfast option requires a minimum of 6 paid guests to confirm the tour. If the breakfast does not confirm, guests will be offered the 8am Wilderness Run without breakfast.
This tour is seasonal and only operates from December through to April.
---
Selecteer een maand om de beschikbaarheidskalender en vertrekinformatie te bekijken.
Vertrekpunt:
Tours depart from the Reservation Desk in the Carleton Lodge, located next to the Whistler Gondola building, in the main Whistler Village.
Gegevens terugreis:
This tour returns to the original departure point approximately 3 hours after departure (4 hours after departure if breakfast option is selected)
---
Klik op de link hieronder als u de prijs en beschikbaarheid wilt controleren op de reisdatum die uw voorkeur heeft. Onze prijzen worden voortdurend bijgewerkt, zodat we u altijd de laagst mogelijke prijs kunnen bieden.
8am Tour with Yukon Breakfast

Code: YUKBRKFST

Departs at 8:00am and includes a stop at a rustic cabin for a full Canadian Yukon Breakfast cooked on an old fashioned wood stove. 3 hours of snowmobile time and an additional hour for breakfast.

8:00am Departure

Code: 8AM

Departs at 8:00am

11:00am Departure

Code: 1100WRDEPART

Departs at 11:00am

2:00pm Departure

Code: 2PM

Departs at 2:00pm
---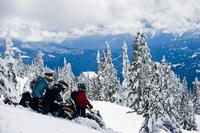 Wilderness Run

Inbegrepen:
3 hour snowmobile tour
Professional guide
Refreshments
Full breakfast, if option selected
Round-trip hotel transfers
GST tax
Niet inbegrepen:
Gratuity (optional)
Collision Coverage ($20 payable directly to the tour operator on day of departure)
Aanvullende informatie:
Confirmation will be received at time of booking
This tour must be booked at least 72 hours in advance of your travel date
Confirmation for this product will be received at time of booking
All drivers must be 19 years or older with a valid driver's license from their country of residence
It is mandatory for all tour participants to sign a Release of Liability and Waiver Form. Any participants under the age of 19 must have a parent or guardian present to sign on their behalf.
Under no circumstances is any person suspected of intoxication beyond the legal driving limit in British Columbia permitted to participate as a driver or passenger in any tour. Persons denied participation will not receive a refund.
Safety regulations require the tour provider to not permit pregnant women to ride as driver or passenger on a snowmobile or ATV. All mother's to be are welcome on the snowcat or 4X4 Van tours.
Adventure sport activities are not recommended for individuals who suffer back or neck pain, heart or respiratory distress. Consult your physician prior to participation.
The ideal weight for a smooth ride on our machines is 170kg (350 lbs.) or less. Please keep this in mind when organizing double riders.
Dress warm and wear your own ski suit if you can. You will be more comfortable and save time in change room. Ski suits will be supplied to those who require them.
There are many beautiful sights along the trails of Whistler. You are encouraged to bring a camera along. Please bring a small backpack or "fanny" pack to store it in while you are riding the ATVs / snowmobile.
This tour is not suitable for children aged 11 years and under
Child prices are not available, adult prices apply to all travelers
Voucherinfo
Voor deze activiteit kunt u een papieren of een elektronische coupon tonen.
Wat is dit?
Informatie lokale operator:
Volledige informatie over de operator, inclusief telefoonnummers op uw bestemming, wordt vermeld op uw bevestigingsvoucher. Onze productmanagers selecteren alleen de meest ervaren en betrouwbare operators op iedere bestemming. Maakt u zich geen zorgen, dit is voor u geregeld.
---
Als u ten minste 7 dag(en) voor het geplande vertrek annuleert, worden er geen annuleringskosten gerekend.
Als u tussen 3 en 6 dag(en) voor het geplande vertrek annuleert, worden er annuleringskosten op basis van 50 procent gerekend.
Als u binnen 2 dag(en) voor het geplande vertrek annuleert, worden er annuleringskosten op basis van 100 procent gerekend.