This Jet ski excursion lets you discover native wildlife as you race along the shores and dreamy blue waters around San Salvador. Get up close to the rare San Salvador rock iguana on Green Cay (a "Cay" is a small island) then shoot over to Catto Cay to witness a majestic seabird colony and more all in a 1 hour tour. Or, if you dare, after Catto Cay, ride with your guide around the entire circumference of San Salvador visiting the always calm lagoon (a.k.a. Pigeon Creek), a pink sand beach and places around the island only few ever get to see.
Talen tour
Verschillende vertrektijden gedurende de dag
Kom in contact met wilde dieren
Geleid door een plaatselijke gids
Kleine groep garandeert persoonlijke service
After a quick orientation and safety briefing on the beach at the northern boundary of Club Med we will launch north to Green Cay. At Green Cay we stop, disembark and get close to the iguanas then explore the cliff and plunge pool for a few minutes or simply soak up the wonderful vista.

Next we race to Catto Cay (Bird Island) where we will slow idle around the shallows and peek at the Magnificent Frigate, Fish Hawks, Red-foot Booby or whatever creature that decides to make an appearance. If you have selected the "15-mile Circuit" you will then follow your guide through a barrier reef into Grahams Harbor where Eagle Ray and Shark sightings are common. You will then head back to Bonefish Bay (the beach at Club Med) for a total circuit of about 15 miles.

If you choose the "Full-Island Circuit" you will visit Green Cay (Iguana Island) and Catto Cay (Bird Island) just like the "15-mile Circuit" but instead of heading back to the beach at Club Med we will continue around to the Atlantic (east facing) side of San Salvador. On the east side of San Salvador which is rugged and mostly uninhabited we will pull into Pink Sand Beach cove to rest. On this beach we usually scour the pale pink sand for Sand Dollars and simply soak in the sights of absolutely unspoiled and untouched nature.

After Pink Sand Beach we head south for about 20min to the Lagoon (Pigeon Creek) where it is always calm and super quiet. In the Lagoon we will stop on a sandbar, lay with the starfish and swim with the turtles and sting rays that make this area home. Next we shoot out of the lagoon around the southeastern tip of San Salvador for an all out thrill ride complete with with big open water swells as we head west and calm shoreline as we hug the beach heading northward back to the beach at Club Med. All in all this adventure totals about 3-3.5 hours covering about 36 miles.
---
Selecteer een maand om de beschikbaarheidskalender en vertrekinformatie te bekijken.
---
Klik op de link hieronder als u de prijs en beschikbaarheid wilt controleren op de reisdatum die uw voorkeur heeft. Onze prijzen worden voortdurend bijgewerkt, zodat we u altijd de laagst mogelijke prijs kunnen bieden.
15-mile Circuit

Code: TG1

1-hour long, 15-mile circuit that visits Iguana Island (a.k.a Green Cay), Bird Island (Catto Cay), and Graham's Harbour.

Full-Island Circuit

Code: TG42

3.5-hour, 36-mile circuit that visits Iguana Island (a.k.a Green Cay), Bird Island (Catto Cay) and then continues on a full island tour.
---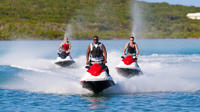 Jet Skii!!

Inbegrepen:
Bottled water
Driver/guide
Local guide
Small-group tour
Niet inbegrepen:
Gratuities (optional)
Hotel pickup and drop-off
Aanvullende informatie:
Confirmation will be received within 48 hours of booking, subject to availability
The tour is guided primarily for safety reasons however there are lots of opportunities for riders to ride freely.

A health and liability waiver must be signed before tour

Maximum 2 people per jet ski

Minimum age to rent is 18 years (primary renter)

Minimum driving age is 16 years

Children are allowed if their feet can firmly touch the bottom of the foot wells on the jet ski and their chin can clear the handle bars.
Voucherinfo
Voor deze activiteit kunt u een papieren of een elektronische coupon tonen.
Wat is dit?
Informatie lokale operator:
Volledige informatie over de operator, inclusief telefoonnummers op uw bestemming, wordt vermeld op uw bevestigingsvoucher. Onze productmanagers selecteren alleen de meest ervaren en betrouwbare operators op iedere bestemming. Maakt u zich geen zorgen, dit is voor u geregeld.
---
Als u ten minste 7 dag(en) voor het geplande vertrek annuleert, worden er geen annuleringskosten gerekend.
Als u tussen 3 en 6 dag(en) voor het geplande vertrek annuleert, worden er annuleringskosten op basis van 50 procent gerekend.
Als u binnen 2 dag(en) voor het geplande vertrek annuleert, worden er annuleringskosten op basis van 100 procent gerekend.