Head out on a 'trip' for fun times jumping up and down on the Golden Gate Bridge and taking in the view of Alcatraz! Drive over the Golden Gate Bridge and head to Sausalito for ice cream and burgers! Then head to Muir Woods National Park and trip out with some of the oldest and tallest trees in the world. Make sure to tell the chipmunks and owls to smile for pictures together! Be yourself at Muir Woods National Park and don't be afraid to talk to 1,000 year old trees and don't forget they love hugs! See all three sides of the bridge on a true half day tour!
Talen tour
Aanbevolen
Gratis ophalen/afzetten bij hotel inbegrepen
Meestal snel uitverkocht
After your hippie guide picks you up from your hotel or preferred pickup destination, venture off to the Golden Gate Bridge. Hop out, take photos and explore the bridge! After 45-minutes of fun, bus over the bridge and head toward a very small town called Sausalito. After a 15-minute drive, arrive in Sausalito and check out trendy shops such as, Soxalito, and enjoy ice cream, burgers, and VEGGIE burgers! Eat by the water because... wait for it... there are seals to talk to! Then, off to Muir Woods National Park. Nature lover or not it's amazing seeing the giant redwood trees over 1,000 years old. The trees are so high you'll miss the gift shop and restaurant. Talk to the birds, trees and owls only to find yourself reliving your childhood days acting like Tarzan for 90-minutes. Then, back to the third side of the Golden Gate Bridge which everyone ignores but is the best side of the bridge for 45 minutes to see where Ikea took all those great pictures of the Golden Gate Bridge! At last, you'll be driven back to your hotel.
---
Recente fotos van deze tour
---
Selecteer een maand om de beschikbaarheidskalender en vertrekinformatie te bekijken.
Vertrekpunt:
Your San Francisco hotel
Vertrektijd:
10am
U wordt vóór deze tijd bij uw hotel opgehaald. Neem contact op met de lokale reisorganisator om uw exacte ophaaltijd na te vragen.
Tijden zijn onderhevig aan wijziging vanwege de plaatselijke verkeersomstandigheden.
Duur:
5 uur 30 minuten (circa)
Gegevens terugreis:
Drop off at your hotel or nearby
---
Klik op de link hieronder als u de prijs en beschikbaarheid wilt controleren op de reisdatum die uw voorkeur heeft. Onze prijzen worden voortdurend bijgewerkt, zodat we u altijd de laagst mogelijke prijs kunnen bieden.
---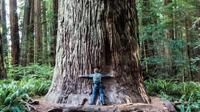 MUIR WOODS GG BRIDGE Sausalito HIPPIE TOURS!

Inbegrepen:
Hotel pickup and drop-off
Local hippie guide
Transportation by hippie bus
Niet inbegrepen:
Food and drinks
Entrance fees
Aanvullende informatie:
Confirmation will be received at time of booking
Children must be accompanied by an adult
The local operator will contact you the day before your tour to confirm exact pick up time
Not recommended for participants with heart complaints or other serious medical conditions
Not recommended for pregnant women
A moderate amount of walking is involved
Due to uneven surfaces, this tour is not recommended for those with walking disabilities or using a wheelchair
Not wheelchair accessible
The duration of transfers are approximate, the exact duration will depend on the time of day and traffic conditions
U.S and Canadian Citizens: Must bring a government issued photo ID
A minimum of 2 people per booking is required
Voucherinfo
Voor deze activiteit kunt u een papieren of een elektronische coupon tonen.
Wat is dit?
Informatie lokale operator:
Volledige informatie over de operator, inclusief telefoonnummers op uw bestemming, wordt vermeld op uw bevestigingsvoucher. Onze productmanagers selecteren alleen de meest ervaren en betrouwbare operators op iedere bestemming. Maakt u zich geen zorgen, dit is voor u geregeld.
---
Alle verkopen zijn onherroepelijk en bij annulering wordt 100% van de kosten doorberekend.