Get ready to go back in time for a colorful, vibrant and eye-opening cultural experience visiting 3 different indigenous cultures on Lake Titicaca. Spend the night with an indigenous family on the remote Island of Amantani. Visit the Uros Floating Islands and Taquile Island. Get to know local Aymara and Quechua-speaking families and experience their unique way of living. Admire awe-inspiring views of Lake Titicaca and the Cordillera Real mountain range.
Talen tour
Day 1: Departing from Puno to the Uros Floating Islands and Amantani Homestay (L/D)
You will be picked up from your hotel between 7:00-8:00am and transferred to the port of Puno where you will meet your guide and board the motor boat.

The first stop will be the Uros Floating Islands, where you will spend about 1.5-hour. There are more than 50 floating islands and you will visit two of them. On the first floating island, your guide will explain you about the people who live on the floating islands. Then you will have some free time to walk around, visit the small huts made from reeds, take some pictures and buy a souvenir to support the people of these islands if you wish.

After this visit you will continue on with a 3-hour boat ride to Amantani Island where you will spend the night with a local family. You will be met by the families at the dock and then taken to their houses to enjoy a delicious lunch with them.
In the afternoon, you will have the opportunity to go on an optional hike up to the highest point of this community which is located at about 4150m (13600 feet) to enjoy the sunset. There you can admire awe-inspiring views of Lake Titicaca, the Cordillera Real mountain range and the Isla del Sol on the Bolivian side of the lake in the distance.

In the evening, after the dinner, the families will organize a local party for you and provide you the traditional dress to enjoy the party (optional). Take plenty of pictures of this crazy mix of locals and foreigners all decked-out laughing and dancing together.

Day 2: Taquile Island and Return to Puno (B)
The next day you will have an early breakfast before saying goodbye to your family and heading over to the neighboring Taquile Island 1-hour boat ride. The people who live on this island are very famous because they are considered "the best weavers of Peru".
There, you will go on a beautiful hike to enjoy the views of the lake. During this hike you will stop to visit the town square of Taquile and visit the handicraft shops to see the typical weaving. The square is also the highest point of the hike at 3950m or 12960ft.

After enjoying some free time around the square, you will enjoy a typical lunch. Then you will finish the hike going to the second port of the island, where you will take the motor boat back to Puno, finishing the tour at 3:30pm approximately.
---
Selecteer een maand om de beschikbaarheidskalender en vertrekinformatie te bekijken.
Vertrekpunt:
Your accommodation in Central Puno
Vertrektijd:
Between 7am-8am depending on pickup location. Please reconfirm departure time with local supplier.
Gegevens terugreis:
Original departure point
---
Klik op de link hieronder als u de prijs en beschikbaarheid wilt controleren op de reisdatum die uw voorkeur heeft. Onze prijzen worden voortdurend bijgewerkt, zodat we u altijd de laagst mogelijke prijs kunnen bieden.
---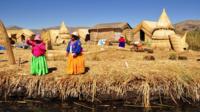 Uros Floating Islands Visit

Inbegrepen:
Hotel pickup and drop-off from city center
Boat Rides
English speaking-guide
Entrance Fees to the Islands
1 breakfast, 1 lunch and 1 dinner at family home
Basic dorm-style accommodation with shared bathroom
Niet inbegrepen:
Small gift for host family to show appreciation (can be purchased in Puno on the morning of departure)
Personal Expenses
Transfers from Hotels Located Out of the City (Libertador, Eco Inn, Casa Andina Private Collection, Posada del Inca, Mirador del Titicaca, Taypikala, Yacht, José Antonio)
Lunch on Taquile Island
Tips for guide and driver (In Peru & Bolivia it is common to tip your tour guide if you feel he/she provided you with a good service. It is not obligatory but it would be a nice gesture)
Aanvullende informatie:
Confirmation will be received within 48 hours of booking, subject to availability
Suggestions for Homestay: Sleeping arrangements are basic, you will have a private room but will have a shared bathroom. All rooms are in different family homes and may vary in accommodations, some houses may not have electricity. Bring with you adequate amounts of water and snacks to avoid paying expensive rates on the islands. Bring enough cash to purchase souvenirs (between 5-20 soles) and extras on the islands. Remember to respect the ecology of the islands any trash you bring in please bring out with you upon your departure and do not take any native plants or rocks from the islands
What to bring: Warm clothing and light clothing (the temperatures can vary very quickly). Torch/flashlight, sun hat, sunglasses, sunscreen, hiking shoes, water bottle (you can buy one also on the islands), money in soles (very low exchange rate for dollars), sleeping bag (optional), rain jacket/rain poncho (rainy season from October to March), small gift for host family to show appreciation (Cooking or kitchen materials, souvenir from your home country or children's books)
NOTE: Please take a SMALL backpack with you on the trip and leave your BIG backpack at your hotel. You will return to Puno after the tour
Minimum age is 7 years
Voucherinfo
Voor deze activiteit kunt u een papieren of een elektronische coupon tonen.
Wat is dit?
Informatie lokale operator:
Volledige informatie over de operator, inclusief telefoonnummers op uw bestemming, wordt vermeld op uw bevestigingsvoucher. Onze productmanagers selecteren alleen de meest ervaren en betrouwbare operators op iedere bestemming. Maakt u zich geen zorgen, dit is voor u geregeld.
---
Alle verkopen zijn onherroepelijk en bij annulering wordt 100% van de kosten doorberekend.