Take a guided walking tour exploring the exciting culinary offerings of the historic Philadelphia neighborhood of Manayunk. Try eight iconic Philly foods, including tomato pie, soft pretzels, Italian baked goods and yes, a classic Philly cheesesteak. The 2.5-hour tour is crammed with information on the 300-year-old neighborhood, fun historical anecdotes and cultural secrets that enliven the experience in between bites.
Aanbevolen
Krijg tips van insiders ter plekke
Meestal snel uitverkocht
You'll have an expert local guide for this 2.5-hour walking tour of the 300-year-old Manayunk neighborhood in Philadelphia. The neighborhood has come a long way in three centuries. Hugging the Schuylkill River about 7 miles (11 km) northwest of the city center, Manayunk was once a mill town, home to thriving cotton mills. During the Civil War, the mills switched from cotton textiles and paper to wool textiles in order to provide blankets for the troops.

The name Manayunk is a Lenni Lenape word for 'where we go to drink,' which is fitting for the lifestyle of 21st-century Manayunk. Even more fitting would be 'where we go to eat and drink,' as there are over 30 restaurants (and, in total, 80-plus businesses) along the neighborhood's Main Street, today one of the hippest streets in the city. It is to the restaurants in and around Main Street that your expert guide will lead you to some of the best iconic Philly edibles Manayunk has to offer. After tasting everything from baked goods at ancient Italian bakeries to legendary tomato pies to soft pretzels to a classic Philly cheesesteak, you'll leave the neighborhood full but yearning to come back for more on your own.

Along the way, learn about the classic architecture of the neighborhood and its iconic row houses. Engross yourself in historical and cultural anecdotes. By the end of the tour, you'll know the place almost as well as the locals do.
---
Selecteer een maand om de beschikbaarheidskalender en vertrekinformatie te bekijken.
Vertrekpunt:
Departs from Hermitage Street and Umbria Street
Gegevens terugreis:
Concludes on Main Street and Carson Street
---
Klik op de link hieronder als u de prijs en beschikbaarheid wilt controleren op de reisdatum die uw voorkeur heeft. Onze prijzen worden voortdurend bijgewerkt, zodat we u altijd de laagst mogelijke prijs kunnen bieden.
11:30am Tour

Code: 11:30am Tour

11:30am Tour

12:00pm Tour

Code: 12:00pm Tour

12:00pm Tour

10:30am Tour

Code: 10:30am Tour

10:30am Tour

12:30pm Tour

Code: 12:30pm Tour

12:30pm Tour
---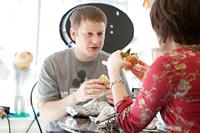 Food Tour

Niet inbegrepen:
Gratuities (optional)
Hotel pickup and drop-off
Food and drink, unless specified
Aanvullende informatie:
Confirmation will be received at time of booking
Please advise any specific dietary requirements at time of booking
A moderate amount of walking is involved
Operates in all weather conditions, please dress appropriately
Voucherinfo
Voor deze activiteit kunt u een papieren of een elektronische coupon tonen.
Wat is dit?
Informatie lokale operator:
Volledige informatie over de operator, inclusief telefoonnummers op uw bestemming, wordt vermeld op uw bevestigingsvoucher. Onze productmanagers selecteren alleen de meest ervaren en betrouwbare operators op iedere bestemming. Maakt u zich geen zorgen, dit is voor u geregeld.
---
Als u ten minste 7 dag(en) voor het geplande vertrek annuleert, worden er geen annuleringskosten gerekend.
Als u tussen 3 en 6 dag(en) voor het geplande vertrek annuleert, worden er annuleringskosten op basis van 50 procent gerekend.
Als u binnen 2 dag(en) voor het geplande vertrek annuleert, worden er annuleringskosten op basis van 100 procent gerekend.