Create your perfect Paris experience with this private 2-day, fully customizable tour with your own local guide. Pick anything you want to do and see, and your guide will help you design an itinerary. See the Eiffel Tower, tour the Louvre Museum, check out Montmartre, admire Notre Dame Cathedral — it's up to you. Your schedule is flexible, and your guide will take care of the logistics. See the cultural icons that have made Paris one of the world's greatest cities for hundreds of years, and discover hidden gems for a more personalized experience.
Talen tour
Kan reisplan aan eigen voorkeuren aanpassen
Krijg tips van insiders ter plekke
Fantastische verkenning van de stad
Perfecte kennismaking voor nieuwe bezoekers
You will need to contact your guide ahead of time to help set up your itinerary based on what you want to do and see during your two days in Paris.
On the first day of your tour, meet your guide at your preferred central Paris location, then head out together to explore the City of Lights. Public transport is included, but all meals, activities and entrance fees are at your own expense.
Paris has a multitude of offerings for nearly every type of traveler.
Want to hit all the top Paris attractions, such as the Eiffel Tower and Notre Dame Cathedral? Are you an art buff seeking to tackle the Louvre? Or would you rather explore off-the-beaten path neighborhoods, such as the bohemian Montmartre district? It's up to you. Below is a sample itinerary to spark some ideas.
---
Selecteer een maand om de beschikbaarheidskalender en vertrekinformatie te bekijken.
Vertrekpunt:
Your preferred central Paris location
Gegevens terugreis:
Flexible
---
Klik op de link hieronder als u de prijs en beschikbaarheid wilt controleren op de reisdatum die uw voorkeur heeft. Onze prijzen worden voortdurend bijgewerkt, zodat we u altijd de laagst mogelijke prijs kunnen bieden.
---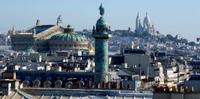 Private 2-Day Tour: Customize Your Perfect Stay in Paris

Inbegrepen:
Local guide
Public transport costs (metro, bus, Vélib bikes, etc.)
Custom tour planning and concierge service for your two days

Niet inbegrepen:
Food and drinks
Entrance fees
Gratuities (optional)
Private transport and taxis

Accommodation

Aanvullende informatie:
Confirmation will be received at time of booking
Reisplan:
Sample Itinerary
Day 1: Palais Garnier, Jardin des Tuileries, Louvre, Champs-Elysées, Arc de Triomphe, Montmartre

Follow your guide to a hidden terrace offering a stunning panoramic view of Paris, then dart off through the city streets to discover
Paris' seductive culture and history.
Visit major attractions such as the Palais Garnier (home to the Paris Opera) and Place de la Concorde. P
erhaps tour the impressive Louvre Museum and stroll the Jardin des Tuileries, or make your way down the
Champs-Elysées to the majestic Arc de T
riomphe.
Pull up a seat at a renowned cafe chosen by your guide to enjoy a classic French meal and hear tales of this romantic city. After lunch, head up to Montmartre, Paris' most
bohemian neighborhood where you'll find enchanting cobblestone streets, historic cabarets and the former studios of famous artists such as Vincent van Gogh, Pablo Picasso, Claude Monet and Auguste Renoir. Stop by the Moulin Rouge, visit iconic Basilique du Sacré-Coeur, see where the movie Amélie was filmed, p
op into local art galleries and duck into specialty food stores where your guide can explain the treats behind the counter.
Unwind with aperitifs at another fabulous restaurant terrace with panoramic city views. Dinner reservations can be made in advance by your guide at Michelin-star L'atelier Robuchon, or any other restaurant you prefer (own expense).
Continue exploring the wonders of Paris on your own in the evening, then return to your hotel and rest up for another day exploring Paris.
Day 2: Luxembourg Gardens, Latin Quarter,
Jardin des Plantes, Le
Marais, Seine River, Eiffel Tower
Begin your second day with a traditional baguette breakfast and coffee as your guide arrives with the local morning paper. Gear up for more iconic destinations as you delve deeper into the nuances of Parisian culture.
Stroll through Luxembourg Gardens, Paris' central park and crown jewel, and learn how this classic French garden differs from English gardens. Whet your appetite with a walk down
Rue Mouffetard in the Latin Quarter. This market street is brimming with
the smells, flavors and sights of France. Meet the local vendors and sample cheeses, cured meats, fruit and wine, and pick your favorites for a picnic basket to be enjoyed at an ideal setting during lunch — perhaps at the Jardin des Plantes, a sprawling botanical garden p
erched on the left bank of the Seine River.
Spend your afternoon shopping in Le Marais,
a prestigious district built by French aristocrats in the 1600s. Today it's one of Paris' most trendy hubs, dotted with fashionable clothing boutiques, upscale pastry shops, yummy falafel joints and mazes of private courtyards, not to mention two world-renowned museums: the Picasso Museum and the Pompidou.
In the evening, perhaps embark on a scenic Seine River cruise, letting you soak up the majesty of Paris from a different vantage point. Watch the sunset on the Champ de Mars while gazing up at the Eiffel Tower — the perfect end to your tour.
Voucherinfo
Voor deze activiteit kunt u een papieren of een elektronische coupon tonen.
Wat is dit?
Informatie lokale operator:
Volledige informatie over de operator, inclusief telefoonnummers op uw bestemming, wordt vermeld op uw bevestigingsvoucher. Onze productmanagers selecteren alleen de meest ervaren en betrouwbare operators op iedere bestemming. Maakt u zich geen zorgen, dit is voor u geregeld.
---
Als u ten minste 7 dag(en) voor het geplande vertrek annuleert, worden er geen annuleringskosten gerekend.
Als u tussen 3 en 6 dag(en) voor het geplande vertrek annuleert, worden er annuleringskosten op basis van 50 procent gerekend.
Als u binnen 2 dag(en) voor het geplande vertrek annuleert, worden er annuleringskosten op basis van 100 procent gerekend.