Enjoy an island'style buffet dinner on a relaxing Oahu Sunset Dinner Cruise as the sun sets on another Hawaiian day. A favorite of families and couples preferring a fun, informal atmosphere, the dining room turns into a party after the sun sets.
Uitstekende waarde voor uw geld.
Familievriendelijk
Avondbuffet inbegrepen
Zie de bezienswaardigheden vanaf het water per boot
Alle belastingen, brandstoftoeslagen en servicekosten inbegrepen
Dine on a sumptuous buffet featuring a variety of tropical dishes, finishing with complimentary tea and coffee. Tables accommodate 6 - 8 people and are shared with other guests.  The dining room and luxurious contemporary lounge offer 360 deg. views of diamond head and the Waikiki skyline.
The sparkling lights of Honolulu and Waikiki, along with the balmy Hawaiian breeze are the perfect combination for a relaxing sunset cruise in Oahu. This is the only dinner cruise that in addition to sailing along Waikiki Beach, travels beyond Diamond Head to see the hidden shores of the Kahala Coastline - home to Hawaii's rich and famous.
This Oahu Sunset Dinner Cruise features a live Hawaiian-contemporary show featuring a cast of lively dancers musicians. Dance the night away as you cruise along the beautiful Hawaiian coastline.
---
Recente fotos van deze tour
---
Selecteer een maand om de beschikbaarheidskalender en vertrekinformatie te bekijken.
Vertrekpunt:
Hotel pickup available
Hotel pickup commences approximately 30-60 minutes prior to cruise's departure time.
Vertrektijd:
5:30pm
Ophalen van hotels begint circa 30-60 minuten eerder; het exacte tijdstip wordt bij herbevestiging doorgegeven.
Gegevens terugreis:
Returns to original departure point
---
Klik op de link hieronder als u de prijs en beschikbaarheid wilt controleren op de reisdatum die uw voorkeur heeft. Onze prijzen worden voortdurend bijgewerkt, zodat we u altijd de laagst mogelijke prijs kunnen bieden.
---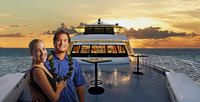 Upper Deck

Inbegrepen:
Buffet dinner
Tea and coffee
Hotel pickup and drop off (selected Waikiki hotels)
Local taxes
Aanvullende informatie:
Confirmation will be received at time of booking
kids 6 and under are FREE and will receive a pre-set "children's plate" for dinner service
Reisplan:
Buffet Menu Inclusions:

Entrees
Garlic Shiitake Teriyaki Chicken
Pacific Catch of the Day
Hawaiian Rock Salt-Crusted
Pork w/Gravy
Add lobster to each buffet meal
for an extra $20

Fruits and Vegetables
Garden Isle Salad
Garden Vegetable Medley
Fresh Fruit

Sides
White Rice
Mashed Potatoes
Hawaiian Sweet Rolls w/Butter

Dessert
Chef's Selection

Beverages
Coffee
Hot Tea


Voucherinfo
Voor deze activiteit kunt u een papieren of een elektronische coupon tonen.
Wat is dit?
Informatie lokale operator:
Volledige informatie over de operator, inclusief telefoonnummers op uw bestemming, wordt vermeld op uw bevestigingsvoucher. Onze productmanagers selecteren alleen de meest ervaren en betrouwbare operators op iedere bestemming. Maakt u zich geen zorgen, dit is voor u geregeld.
---
Als u ten minste 7 dag(en) voor het geplande vertrek annuleert, worden er geen annuleringskosten gerekend.
Als u tussen 3 en 6 dag(en) voor het geplande vertrek annuleert, worden er annuleringskosten op basis van 50 procent gerekend.
Als u binnen 2 dag(en) voor het geplande vertrek annuleert, worden er annuleringskosten op basis van 100 procent gerekend.