Ready to get wild? The Wild Center, a 54,000-square-foot (5,000-sq-m) complex in the heart of the Adirondacks, celebrates the wonders of the area, particularly natural ones. With entrance into The Wild Center, you get family-friendly entertainment and education in nature and wildlife. See live exhibits that include indigenous wildlife of the Adirondacks and explore the 81-acre (33-hectare) campus, which offers easy trails to hike. Part natural history museum, part science center and part aquarium, The Wild Center offers a full day's worth of learning about nature.
Kom in contact met wilde dieren
Familievriendelijk
Beleef de wilde dieren van dichtbij
Perfect geschikt voor alle leeftijden en vaardigheidsniveau's
Zie wilde dieren in hun natuurlijke omgeving
The Wild Center lives up to its name. This state-of-the-art museum takes the old, stodgy natural history museum to new heights with hands-on exhibitions, live animals, films and hiking trails that allow guests to see, hear, smell and really feel flora and fauna of the area.
An homage to the rich nature of the Adirondacks, The Wild Center offers a plethora of educational and entertaining diversions. At the Glacial Wall, learn how the area was formed by glaciers at the end of the last ice age. Stroll the Long River Trail and spend some time at the trout pool populated by fish, turtles, ducks and insects. Linger in the Find Out Forest, an indoor gallery with multiple screens showing films and videos related to the animals of the Adirondacks.
If there's snow on the ground, take advantage of complimentary snowshoes to explore the huge nature campus and track animal paw prints. Or, in warm weather months, follow the 2 miles (3 km) of trails. In the end, you'll have a new appreciation for nature and the rich wildlife of the Adirondacks.
---
Selecteer een maand om de beschikbaarheidskalender en vertrekinformatie te bekijken.
Vertrekpunt:
Tupper Lake, New York
Vertrektijd:
Opening hours:
Friday through Sunday: Mid October through Memorial Day
10am to 5pm
Monday through Sunday:
Memorial Day through mid October
Memorial Day - Labor Day: 10am to 6pm
Labor Day - Mid October: 10am to 5pm
The Wild Center is closed in April for special exhibitions.
---
Klik op de link hieronder als u de prijs en beschikbaarheid wilt controleren op de reisdatum die uw voorkeur heeft. Onze prijzen worden voortdurend bijgewerkt, zodat we u altijd de laagst mogelijke prijs kunnen bieden.
General Admission

Code: GEN

Includes General Admission
---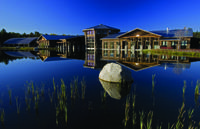 The Wild Center

Inbegrepen:
General admission to The Wild Center
Admission is valid for two consecutive days
When applicable, snowshoes are provided to explore the 81 acres around The Wild Center

Niet inbegrepen:
Hotel pickup and drop-off
Food and drinks
Aanvullende informatie:
Confirmation will be received at time of booking
Operates in all weather conditions, please dress appropriately if you plan to explore the 81-acre campus
Wheelchair accessible
Instant confirmation

Voucherinfo
Voor deze activiteit kunt u een papieren of een elektronische coupon tonen.
Wat is dit?
Informatie lokale operator:
Volledige informatie over de operator, inclusief telefoonnummers op uw bestemming, wordt vermeld op uw bevestigingsvoucher. Onze productmanagers selecteren alleen de meest ervaren en betrouwbare operators op iedere bestemming. Maakt u zich geen zorgen, dit is voor u geregeld.
---
Als u ten minste 7 dag(en) voor het geplande vertrek annuleert, worden er geen annuleringskosten gerekend.
Als u tussen 3 en 6 dag(en) voor het geplande vertrek annuleert, worden er annuleringskosten op basis van 50 procent gerekend.
Als u binnen 2 dag(en) voor het geplande vertrek annuleert, worden er annuleringskosten op basis van 100 procent gerekend.