View the works of 19th-century American artist Frederic Remington at the Frederic Remington Art Museum in Ogdensburg. With your admission ticket to the historic Parish Mansion, see original paintings by the artist, as well as other art owned by the Remingtons. You can enter his studio, plus see collections of American Indian photographs and Tiffany objects. Includes admission to Kid's Place, conveniently located down the street.
Make your way to the historic Parish Mansion, home of the Frederic Remington Art Museum in
Ogdensburg.
Your admission ticket includes an audio tour to enhance your understanding of this prominent American artist of the late 1800s.
Admire the oak ceiling and walls as you enter the lobby, where you will find the Tiffany Gallery, which features a large lampshade and grandfather clock. Behind the grand staircase lies an art collection owned by Remington and his wife Eva, as well as some of Remington's journals.
Walk down the interpretive corridor in search of Remington's studio, which includes his massive easel, rocking chair, sculpting stand, armature, tools, firearms and some of the hundreds of props he used. Admire personal belongings like Eva Remington's engagement ring and a marble bust of Eva by an unknown artist, and pore over Remington's collection of American Indian photographs, Havana cigars and a variety of objects by Tiffany.
Enter the Albert Newell Gallery to see original bronzes such as The Stampede and The Cheyenne, and view paintings including Charge of the Rough Riders, Old-Times Plain Fight and The Howl of the Weather. Flat works by Remington and more bronzes are on display in the Addie Newell Gallery.
Take the grand staircase or the elevator to the second floor to see works by Sally James Farnham, an American sculptor and family friend of Remington's whose public commissions include the Simon Bolivar statue at the entrance to Central Park in New York City. Then visit Remington's personal library and the Parish Room, which contains chairs that belonged to David Parish when he resided here and watched fighting during the War of 1812 when Ogdensburg was attacked from across the river. Learn about his nephew, George Parish, who moved in with his mistress, Ameriga Vespucci, a descendant of the explorer Amerigo.
If you're traveling with children, head down the street to Kid's Place, aka the Eva Remington Education Center of the Frederic Remington Art Museum, included with your admission ticket. Founded in 2004, the museum features interactive exhibits that provide youngsters with a variety of activities. Use stones to make rubbings of Western scenes; sit and 'fish' from a large canoe using magnetic fishing poles; sniff scent containers that transport you to Western locales; don chaps, hats and vests from the dress-up bin; brush and saddle a life-size horse; and venture into the art studio to let the creativity flow.
---
Selecteer een maand om de beschikbaarheidskalender en vertrekinformatie te bekijken.
Vertrekpunt:
Frederic Remington Art Museum in Ogdensburg, New York
Vertrektijd:
Art museum opening hours
May 15 to Oct 15:
10am - 5pm, Mon to Sat

1pm - 5pm, Sun

Oct 16 to May 14:
11am - 5pm, Wed to Sat
1pm - 5pm, Sun
Kid's Place opening hours
June 30 to Aug 31:
11am - 4pm, Mon to Fri
1pm - 4pm,
Sat and Sun
Sep 1 to June 29:
3pm - 5pm, Fri
1pm - 4pm, Sat and Sun
---
Klik op de link hieronder als u de prijs en beschikbaarheid wilt controleren op de reisdatum die uw voorkeur heeft. Onze prijzen worden voortdurend bijgewerkt, zodat we u altijd de laagst mogelijke prijs kunnen bieden.
---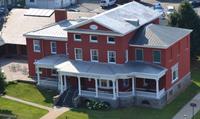 Frederic Remington Art Museum

Inbegrepen:
General admission ticket
Audio tour
Admission to Kid's Place
Niet inbegrepen:
Hotel pickup and drop-off
Food and drinks

Aanvullende informatie:
Confirmation will be received within 48 hours of booking, subject to availability
Wheelchair accessible
In order to access the audio tour from your own mobile phone and headphones, please ask the museum staff upon arrival
Voucherinfo
Voor deze activiteit kunt u een papieren of een elektronische coupon tonen.
Wat is dit?
Informatie lokale operator:
Volledige informatie over de operator, inclusief telefoonnummers op uw bestemming, wordt vermeld op uw bevestigingsvoucher. Onze productmanagers selecteren alleen de meest ervaren en betrouwbare operators op iedere bestemming. Maakt u zich geen zorgen, dit is voor u geregeld.
---
Als u ten minste 7 dag(en) voor het geplande vertrek annuleert, worden er geen annuleringskosten gerekend.
Als u tussen 3 en 6 dag(en) voor het geplande vertrek annuleert, worden er annuleringskosten op basis van 50 procent gerekend.
Als u binnen 2 dag(en) voor het geplande vertrek annuleert, worden er annuleringskosten op basis van 100 procent gerekend.