Break from the boring routine and explore the hidden gems of Central Park. The tour covers all secret spots located at the north part of Central Park. This part of the park is considered the most beautiful but often left unexplored by other tours, due to its remote location. Venture out of the beaten path and immerse yourself in the natural beauty of Central Park.
Talen tour
Fantastische verkenning van de stad
Perfect geschikt voor alle leeftijden en vaardigheidsniveau's
Kleine groepstour
The Central Park hidden secrets tours covers all the spots that are left behind by other conventional tours of. The tour starts from the entrance on 96th street and Central Park West, where your guide will meet you. Then you will immediately dive into one of the most secluded areas in Central Park, the Ravine. Designed by Frederick Law Olmstead, the Ravine provides refuge to the highest concentration of birds in Central Park. It is also the home of 3 beautiful waterfalls.
You will then exit the Ravine from the north end of it and head towards the Harlem Meer and the Conservatory Garden. Your guide will show you the entrance of the Conservatory garden and once inside you can explore 3 different garden styles: French, British and Italian.
After a brief stroll at the Conservatory Garden, start heading towards Jackie Kennedy Onasis Reservoir. Once used to supply the tap water in the city, now the reservoir provides some stunning views of the city and the building surrounding the park. You will have the opportunity to take a break, enjoy the scenery and take some photos.
Continue south as you explore more of Central Park. Fifteen minutes away from Jackie O's reservoir is Belvedere Castle. As the name suggests (
bel vedere - "nice to view")
this castle is situated at one of the highest points in Central Park, overlooking the Great Lawn. Considered one of the most romantic place for young couples, don't be surprised if all of a sudden you hear hand clapping and you notice a guy proposing to his future wife.
You will then leave Belvedere Castle and slowly start entering the commercial and well-known touristy areas of the park. Your next stop will be Strawberry Fields, John Lennon's Memorial. You will get the opportunity to walk the fields and hear interesting stories about the famous Beatle. Right across the street from Strawberry Fields is where John Lennon used to live (at the Dakota building) and where he was assassinated.
Your tour ends at Columbus Circle.
---
Selecteer een maand om de beschikbaarheidskalender en vertrekinformatie te bekijken.
Vertrekpunt:
Central Park entrance located at 96th Street and Central Park West
Gegevens terugreis:
The tour ends at Columbus Circle (59th street and Broadway)
---
Klik op de link hieronder als u de prijs en beschikbaarheid wilt controleren op de reisdatum die uw voorkeur heeft. Onze prijzen worden voortdurend bijgewerkt, zodat we u altijd de laagst mogelijke prijs kunnen bieden.
---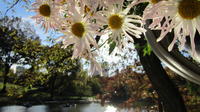 The Lake

Inbegrepen:
Local guide

Small-group tour
Aanvullende informatie:
Confirmation will be received at time of booking
A moderate amount of walking is involved



Voucherinfo
Voor deze activiteit kunt u een papieren of een elektronische coupon tonen.
Wat is dit?
Informatie lokale operator:
Volledige informatie over de operator, inclusief telefoonnummers op uw bestemming, wordt vermeld op uw bevestigingsvoucher. Onze productmanagers selecteren alleen de meest ervaren en betrouwbare operators op iedere bestemming. Maakt u zich geen zorgen, dit is voor u geregeld.
---
Als u ten minste 7 dag(en) voor het geplande vertrek annuleert, worden er geen annuleringskosten gerekend.
Als u tussen 3 en 6 dag(en) voor het geplande vertrek annuleert, worden er annuleringskosten op basis van 50 procent gerekend.
Als u binnen 2 dag(en) voor het geplande vertrek annuleert, worden er annuleringskosten op basis van 100 procent gerekend.