A great way to discover New York City's famous Central Park is on a bicycle. Explore everything this iconic park has to offer — from the meadows, gardens, and bridges to the performance centers, educational facilities, and classical architecture on bike-friendly paths (no biking in traffic). From a 1-to-3 hour jaunt or a full day of riding, this Central Park bike rental includes the use of a bicycle, helmet, basket, and lock. Choose from a wide assortment of bikes for all kinds of riding activities.
Uitstekende waarde voor uw geld.
Ophalen bij een centraal ontmoetingspunt
Meedere keren per dag aangeboden
Vermijd de wachtrijen
A bicycle ride through Central Park begins with a large selection of bikes from the rental shop in Midtown Manhattan — a fleet consisting of brand-new Fuji hybrids, perfect for exploring the park as well as the city. A mechanic will inspect all bikes, go over the safety instructions, and make sure each rider has the perfect setup before renting.

Pick one and begin riding for an hour or two (or three) or the entire day. It's only five blocks of riding on a protected bicycle lane to the entrance of the park. Then enjoy breathtaking views from flat, hilly, and scenic terrain. On a bike, it's relatively easy to see a lot of the park in a short amount of time.

Central Park offers a plethora of special highlights for individuals and families. From green meadows, gardens, and unique bridges to performance centers and classical architecture, the park's greatest attraction is its scenic beauty. Renting a bike is a great way to see it all. Enjoy the view and pedal at any pace desired, stopping along the way to explore at will.
---
Selecteer een maand om de beschikbaarheidskalender en vertrekinformatie te bekijken.
Vertrekpunt:
Midtown Manhattan, just south of Central Park
Vertrektijd:
Everyday from 9am to 8pm
Gegevens terugreis:
1666 Broadway
New York, NY, 10019
---
Klik op de link hieronder als u de prijs en beschikbaarheid wilt controleren op de reisdatum die uw voorkeur heeft. Onze prijzen worden voortdurend bijgewerkt, zodat we u altijd de laagst mogelijke prijs kunnen bieden.
2 Hour Bicycle Rental

Code: TG1

Central Park Recommended! Enjoy the benefits of the south half of the park for 2 full hours on your bicycle. If you wish to uncover the full potential of the park at least 3 hours are recommended.

1 Hour Bicycle Rental

Code: TG2

1 full hour of New York bicycle experience. Perfect for training and/or cardio exercise. Not recommended for Central Park. If you wish to visit the park 1 hour is enough to cover no more than 15%.

3 Hour Bicycle Rental

Code: TG3

The full Central Park experience. Venture into the park for 3 hours and explore it inside-out with enough time for stops and photos. Biking in Central Park doesn't get any better than this!

All Day Bike Rental

Code: TG4

The Ultimate Bicycle Experience! Take a bike for the whole day and explore not only central park, but the city itself. From Hudson River to Brooklyn Bridge to Battery Park, the city is at your command
---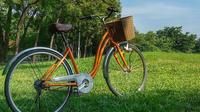 Bicycle rental

Inbegrepen:
bicycle
helmet
basket
lock
Aanvullende informatie:
Confirmation will be received at time of booking
Infant seats are available on request at the time of booking
Voucherinfo
Voor deze activiteit kunt u een papieren of een elektronische coupon tonen.
Wat is dit?
Informatie lokale operator:
Volledige informatie over de operator, inclusief telefoonnummers op uw bestemming, wordt vermeld op uw bevestigingsvoucher. Onze productmanagers selecteren alleen de meest ervaren en betrouwbare operators op iedere bestemming. Maakt u zich geen zorgen, dit is voor u geregeld.
---
Als u ten minste 7 dag(en) voor het geplande vertrek annuleert, worden er geen annuleringskosten gerekend.
Als u tussen 3 en 6 dag(en) voor het geplande vertrek annuleert, worden er annuleringskosten op basis van 50 procent gerekend.
Als u binnen 2 dag(en) voor het geplande vertrek annuleert, worden er annuleringskosten op basis van 100 procent gerekend.