Tour both Oak Alley and Laura Plantation during one trip. This day trip from New Orleans is perfect for the traveler looking to see two pieces of history in the same day with the convenience of hotel pickup from their downtown New Orleans accommodation.
Talen tour
Stap terug in de tijd tijdens een historische tour
Inclusief alle toegangsprijzen
Alle belastingen, brandstoftoeslagen en servicekosten inbegrepen
Ophalen van hotel inbegrepen
Meestal snel uitverkocht
Tour both Oak Alley and Laura Plantation during one trip. Travel in one of climate controlled mini buses with air suspension for a comfortable ride. This tour provides complimentary pickup and dropoff from select downtown New Orleans hotels.

Laura, A Creole Plantation has a rich and unique history, from the home itself to the women that ran it. Uniquely enough, the plantation is now named after one of those very women. You will get to tour this over 200 year old sugarcane plantation. This tour will include a walk through of the main house as well as the slave quarters.

Oak Alley is an antebellum plantation known for its stunning 300 year old alley of oak trees. This plantation was built in 1839 and faces the Mississippi river. These unique tree formations and the beautiful grounds in combination with the colorful history make this a must see destination while you are in New Orleans.

After both locations have been visited you will be dropped off back at your New Orleans hotel accommodation.
---
Recente fotos van deze tour
---
Selecteer een maand om de beschikbaarheidskalender en vertrekinformatie te bekijken.
Vertrekpunt:
Pick up from various hotels and locations in New Orleans. Pick up location confirmed at time of booking.
Vertrektijd:
U wordt ongeveer 30-60 minuten vóór deze tijd bij uw hotel opgehaald
Tijden zijn onderhevig aan wijziging vanwege de plaatselijke verkeersomstandigheden.
---
Klik op de link hieronder als u de prijs en beschikbaarheid wilt controleren op de reisdatum die uw voorkeur heeft. Onze prijzen worden voortdurend bijgewerkt, zodat we u altijd de laagst mogelijke prijs kunnen bieden.
8:30am departure

Code: TG1

8:30am departure

11:45am departure

Code: TG2

11:45am departure
---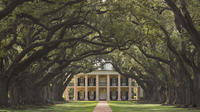 Visit Oak Alley Plantation.

Inbegrepen:
All taxes, fees and handling charges
Entrance fees
Fuel surcharge
Hotel pickup and drop-off
Niet inbegrepen:
Food and drinks
Gratuities (optional)
Aanvullende informatie:
Confirmation will be received at time of booking
Children must be accompanied by an adult
A moderate amount of walking is involved
Due to uneven surfaces, this tour is not recommended for those with walking disabilities or using a wheelchair
Voucherinfo
Voor deze activiteit kunt u een papieren of een elektronische coupon tonen.
Wat is dit?
Informatie lokale operator:
Volledige informatie over de operator, inclusief telefoonnummers op uw bestemming, wordt vermeld op uw bevestigingsvoucher. Onze productmanagers selecteren alleen de meest ervaren en betrouwbare operators op iedere bestemming. Maakt u zich geen zorgen, dit is voor u geregeld.
---
Als u ten minste 7 dag(en) voor het geplande vertrek annuleert, worden er geen annuleringskosten gerekend.
Als u tussen 3 en 6 dag(en) voor het geplande vertrek annuleert, worden er annuleringskosten op basis van 50 procent gerekend.
Als u binnen 2 dag(en) voor het geplande vertrek annuleert, worden er annuleringskosten op basis van 100 procent gerekend.