Discover the rich history and vibrant culture of New Orleans on this guided Segway tour. At a relaxed pace, explore the bustling French Quarter, cruise along the Mississippi River, stop by Louis Armstrong Park -- the birthplace of jazz -- and visit Jackson Square, surrounded by some of the oldest buildings in the US such as the Cabildo, where the Louisiana Purchase was signed. Your guide will teach you about the city's architecture and French and Spanish colonial past. Choose a 2-hour tour or upgrade to the 3-hour tour.
Talen tour
Alle noodzakelijke uitrusting inbegrepen
Ochtend- of middagvertrek naar keuze
Informatieve, vriendelijke en professionele gids
Meet your group and guide on Decatur Street for a 30-minute orientation session and safety instruction. Once you feel comfortable on your Segway, it's time to hit the road!

Follow your guide through the French Quarter, New Orleans' cultural hub and the oldest part of the city. Admire the French and Spanish colonial architecture and see buildings dating all the way back to the 1700s.

Cruise along the Mississippi River waterfront and learn why the French chose to colonize New Orleans. Enjoy sweeping views of the West Bank and catch a glimpse of a steamship paddling by.

Head to Louis Armstrong Park, the birthplace of jazz. Explore the beautifully manicured park, a lesser-known spot among tourists, and enjoy the green landscape dotted with fountains.

Visit Jackson Square, the center of the city when the French first settled here. Surrounding the square are some of the oldest buildings in the US including St Louis Cathedral, the oldest operating Catholic Church in the US, and the Cabildo, where the Louisiana Purchase was signed in 1803.

On bustling Bourbon Street, see the favorite hangout spot of the infamous French pirate Jean Lafitte. Then, stop by the Old US Mint, a historic landmark that now houses part of the Louisiana State Museum.

Choose the 6pm evening departure for a New Orleans sunset treat.

Extended 3-Hour Tour:
If you choose the 3-hour tour, you'll also visit Tremé, made popular by the post-Hurricane Katrina HBO series. This neighborhood was home to Caucasians, Haitians, Creoles and 'free people of color' in the late 18th century, and helped give rise to jazz culture.

You'll also stop by Congo Square, a section of Armstrong Park that was once a vibrant market place where slaves and free people of color could trade, exchange news and play music on Sundays.

Return to Decatur Street to conclude your tour.

---
Recente fotos van deze tour
---
Selecteer een maand om de beschikbaarheidskalender en vertrekinformatie te bekijken.
Vertrekpunt:
Decatur Street in the French Quarter
Gegevens terugreis:
Returns to original departure point
---
Klik op de link hieronder als u de prijs en beschikbaarheid wilt controleren op de reisdatum die uw voorkeur heeft. Onze prijzen worden voortdurend bijgewerkt, zodat we u altijd de laagst mogelijke prijs kunnen bieden.
2-Hour Tour at 11am

Code: AM1100

2-hour tour departing at 11am

2-Hour Tour at 2:30pm

Code: AM1430

2-hour tour departing at 2:30pm

2-Hour Tour at 3:30pm

Code: PM1530

2-hour tour departing at 3:30pm

2-Hour Evening Tour at 6pm

Code: PM1800

2-Hour tour departing at 6pm

3-Hour Tour at 9:30am

Code: AM930

3-hour tour departing at 9:30am

3-Hour tour at 10am

Code: AM1000

3-hour tour departing at 10am

3-Hour Tour at 2pm

Code: PM1400

3-hour tour departing at 2pm
---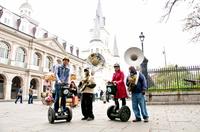 Jazz Comes Alive in New Orleans

Inbegrepen:
Guided Segway tour
30-minute orientation session
Niet inbegrepen:
Hotel pickup and drop-off
Rain ponchos available for purchase (refunded if not used)
Gratuities (optional)
Aanvullende informatie:
Confirmation will be received at time of booking
Minimum weight requirement is 100 lbs (45 kg) and maximum recommended weight limit is 260 lbs (118 kg)
All riders must be at least 12 years of age
All riders under the age of 18 must be accompanied by a parent or guardian
All riders must sign a liability waiver
Insurance requires a per-authorization of USD $500 on a credit card. Please bring an American Express, MasterCard, Visa, Discover or cash for this deposit. It will be refunded upon completion of the tour
Please dress appropriately and wear comfortable, closed-toed shoes. Large backpacks and purses are not recommended
For safety of mother and child, pregnant women are not permitted to ride
Adult pricing applies to all travelers
Maximum of 8 travelers per departure; groups larger than 8 passengers may be split into separate departures
Anyone suspected of being under the influence of alcohol will not be permitted to ride
Reisplan:
Extended 3‐Hour Tour:
The 3‐hour extended tour will include a stop at Congo Square in Louis Armstrong Park, an important site where slaves and free people meet on Sunday to openly trade, socialize, play music and dance. Then continue to the famous Tremé neighborhood, known historically as a rich cultural melting pot and jazz hotspot, and more recently as the setting for the popular HBO series Tremé. Your tour returns to the starting point on Decatur Street.
Voucherinfo
Voor deze activiteit kunt u een papieren of een elektronische coupon tonen.
Wat is dit?
Informatie lokale operator:
Volledige informatie over de operator, inclusief telefoonnummers op uw bestemming, wordt vermeld op uw bevestigingsvoucher. Onze productmanagers selecteren alleen de meest ervaren en betrouwbare operators op iedere bestemming. Maakt u zich geen zorgen, dit is voor u geregeld.
---
Als u ten minste 7 dag(en) voor het geplande vertrek annuleert, worden er geen annuleringskosten gerekend.
Als u tussen 3 en 6 dag(en) voor het geplande vertrek annuleert, worden er annuleringskosten op basis van 50 procent gerekend.
Als u binnen 2 dag(en) voor het geplande vertrek annuleert, worden er annuleringskosten op basis van 100 procent gerekend.