Een reis naar Hawaï is pas compleet wanneer u een luau of een Maui-dinercruise hebt meegemaakt. Met dit fantastische pakket kunt u beide doen! Kies één avond voor uw Maui-dinercruise bij zonsondergang en één avond voor uw luau met een all-you-can-eat dinerbuffet.
Talen tour
Avondbuffet inbegrepen
Gratis drankjes inbegrepen
Zie de bezienswaardigheden vanaf het water per boot
Vegetarische maaltijdoptie beschikbaar
Meestal snel uitverkocht
Likely to Sell-out! The Royal Lahaina Luau regularly sells out weeks in advance, so book ahead to avoid disappointment!
At the luau, you'll enjoy authentic luau cuisine, free-flowing cocktails and the finest hula dancers on the island of Maui. Held in the landscaped grounds of the Royal Lahaina Resort, the luau features entertainment from a dynamic Polynesian revue while you eat and drink the night away.
Then, when you take your Maui cocktail cruise on another evening, you'll see the magical island of Maui from another perspective, including the best views of the West Maui Mountains. While you enjoy the spectacular sunset views, you'll be served table-side by friendly staff. Enjoy a delicious meal, drinks, dessert and live entertainment in the air-conditioned main cabin or on the upper open-air deck.
After dinner, there's live music and dancing in the main cabin, or you can stay at your table to enjoy the remainder of your Maui sunset dinner cruise along the Maui coastline.

The date of your luau must be after the date of your cruise and both cannot be done on the same day. Please choose the date of your cruise on the calendar and enter the date of your luau following the word "luau" in the "Special requirements" field at the time of booking.

---
Recente fotos van deze tour
---
Selecteer een maand om de beschikbaarheidskalender en vertrekinformatie te bekijken.
Vertrekpunt:
Outside the Pioneer Inn
Vertrektijd:
The date selected will be the night for your cruise. Please specify another night for your luau in the 'Special Requirements' field at Check-out.

Maui Sunset Dinner Cruise


Operates daily except Sunday
Boards between 4:45pm and 5:00pm
Sails between 5:30pm and 8:00pm
Royal Lahaina Luau


Check-In at 5:15pm
Show starts at 6:00pm
---
Klik op de link hieronder als u de prijs en beschikbaarheid wilt controleren op de reisdatum die uw voorkeur heeft. Onze prijzen worden voortdurend bijgewerkt, zodat we u altijd de laagst mogelijke prijs kunnen bieden.
---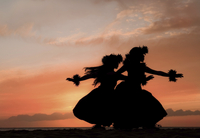 Maui Sunset Dinner

Inbegrepen:
Maui Sunset Dinner Cruise - First Night
Sunset Dinner Cruise
Table Side Service
3 Beverages
Live Music and Dancing on Maui's Largest Dance Floor
Whale Watching (seasonal)
Local taxes and Harbor Fees
Fuel Surcharge
Royal Lahaina Luau - Another Night
Aloha shell lei greeting
Photo opportunities
Arts and crafts demonstrations
Open bar serving standard cocktails and fresh tropical drinks
Traditional Imu (underground oven) ceremony
All-you-can-eat luau buffet
Keiki (children's) buffet
Dynamic Polynesian Revue
Niet inbegrepen:
Gratuities (optional)
Hotel pickup and drop off
Aanvullende informatie:
You must bring valid photo identification if you wish to consume alcoholic beverages on board
Rates and Menus are subject to change without notice
Maximum capacity is 149 passengers
Tour operator reserves the right to substitute vessels, routes and destinations based on vessel operations, weather and sea conditions without notice
Due to new Homeland Security Procedures all passengers may be subject to a random search of their personal effects (including carry ons) and all passengers must be able to provide identification upon the request of vessel personnel as proof of his/her identity. Due to these changes it is imperative that each guest have a valid ID with them at all times.
Special Note:
You cannot do both night tours in one night. Please choose another date for your luau in the 'Special Requirements' field. The luau does not operate on Saturday.
Menu for Maui Sunset Dinner Cruise:
Fresh Green Salad
Choice of:
Roasted Chicken
OR
12 oz. Cut Prime Rib - with Au Jus and Horseradish
OR
Vegetarian Dinner - Mediterranean Couscous Pocket with Tomato, Mushroom and Herb Sauce
OR
Macadamia Nut Crusted Mahi Mahi Fillet
Plus:
New Potatoes
Fresh Bread
Vegetables
Dessert Selection
Voucherinfo
Voor deze activiteit kunt u een papieren of een elektronische coupon tonen.
Wat is dit?
Informatie lokale operator:
Volledige informatie over de operator, inclusief telefoonnummers op uw bestemming, wordt vermeld op uw bevestigingsvoucher. Onze productmanagers selecteren alleen de meest ervaren en betrouwbare operators op iedere bestemming. Maakt u zich geen zorgen, dit is voor u geregeld.
---
Als u ten minste 7 dag(en) voor het geplande vertrek annuleert, worden er geen annuleringskosten gerekend.
Als u tussen 3 en 6 dag(en) voor het geplande vertrek annuleert, worden er annuleringskosten op basis van 50 procent gerekend.
Als u binnen 2 dag(en) voor het geplande vertrek annuleert, worden er annuleringskosten op basis van 100 procent gerekend.