Explore the ancient remains at the La Brea Tar Pits in Los Angeles with a modern form of transportation — the Segway! The convenient personal transport vehicle makes it easy to get around this popular and intriguing site and see the remains of prehistoric animals such as mastodons, mammoths and ground sloths. Learn all about the history and scientific significance of the tar pits from your informative guide during your morning or afternoon tour of this off-the-beaten-track attraction.
Alle noodzakelijke uitrusting inbegrepen
Tour met doorlopend commentaar
Geleid door een plaatselijke gids
Meestal snel uitverkocht
Meet your guide in central Los Angeles to begin your exciting Segway tour. After a safety briefing, hop aboard your Segway for an instructional session. Riding a Segway is easy to learn, and in no time you'll be ready to glide the short distance to the La Brea Tar Pits to begin your exploration of the ancient site. This unusual attraction in the heart of Los Angeles features the remains of animals from the Pleistocene Era (a time period that spanned from 2.6 million to 11,700 years ago) trapped in natural asphalt oozing up from the ground.
Cruise around the site on your Segway, listening to your guide discuss the history of the pits and the many fossils that have been discovered there. Marvel at actual bones from prehistoric mammals such as mammoths, mastodons, saber-toothed cats, camelops, dire wolves, ground sloths, North American lions and short-faced bears unearthed through ongoing excavations. Hear about how settlers in early Los Angeles used the tar from the pits for fuel and building materials.

Keep your energy up with complimentary bottled water and chips, and pause for fascinating photo ops of reconstructed scenes with Ice Age animals throughout your tour. Your 2-hour Segway tour of the La Brea Tar Pits concludes where it began in central Los Angeles.
---
Selecteer een maand om de beschikbaarheidskalender en vertrekinformatie te bekijken.
Vertrekpunt:
Central Los Angeles
Vertrektijd:
9am, 11am, 2pm or 4pm
---
Klik op de link hieronder als u de prijs en beschikbaarheid wilt controleren op de reisdatum die uw voorkeur heeft. Onze prijzen worden voortdurend bijgewerkt, zodat we u altijd de laagst mogelijke prijs kunnen bieden.
9am Departure

Code: PM0900

9am departure; 2-hour Segway tour of the La Brea Tar Pits

11am Departure

Code: PM1100

11am departure; 2-hour Segway tour of the La Brea Tar Pits

2pm Departure

Code: PM1400

2pm departure; 2-hour Segway tour of the La Brea Tar Pits

4pm Departure

Code: PM1600

4pm departure; 2-hour Segway tour of the La Brea Tar Pits
---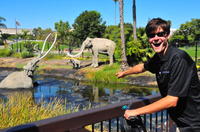 La Brea Tar Pits Tour by Segway

Inbegrepen:
Narration by professional guide
30-minute Segway orientation
Use of Segway and safety equipment (helmet)
Chips and bottled water
Entrance fees
Niet inbegrepen:
Gratuities (optional)
Hotel pickup and drop-off
Aanvullende informatie:
Confirmation will be received within 48 hours of booking, subject to availability
Please provide your contact information (i.e. email, phone number) in the Special Requirements box at time of booking
Minimum age is 12 years. Riders 12 to 15 years must have a parent present to both sign a waiver and accompany them on the tour
Riders 16 to 17 years must have a parent present to sign a waiver but are allowed to ride without parental accompaniment
Minimum weight is 100 lbs (45 kg), maximum is 250 lbs (113 kg)
Pregnant woman are not allowed to participate
While this tour is not physically demanding, you must have a decent level of fitness and be able to climb stairs without assistance to participate
Tours operate rain or shine
Voucherinfo
Voor deze activiteit kunt u een papieren of een elektronische coupon tonen.
Wat is dit?
Informatie lokale operator:
Volledige informatie over de operator, inclusief telefoonnummers op uw bestemming, wordt vermeld op uw bevestigingsvoucher. Onze productmanagers selecteren alleen de meest ervaren en betrouwbare operators op iedere bestemming. Maakt u zich geen zorgen, dit is voor u geregeld.
---
Als u binnen 7 dag(en) voor het geplande vertrek annuleert, worden er annuleringskosten op basis van 100 procent gerekend.