Let's take a day of to relax in the cool refreshing water streaming down from the Kanuku Mountains.

The perfect get away from the hot savanna around Lethem. A day with bathing, snacks and stories from the many expeditions we've done in the mountains.
We will get to our destination on bicycle and bring what we need for this one day tour crossing the savanna and small communities on the way.
Talen tour
Before first light we will mount our bicycles to ride of towards the sunrise. We will start early to escape the hot sun and enjoy the fresh air that covers the area in the morning hours. From Lethem, we will bicycle out on the savanna to reach the falls at the foot of the Kanuku Mountain's.

During the tour over the savanna and through the small communities we will guide and tell stories of the area and it's inhabitants, the Amerindians. For centuries they have been living around these mountains known as the mother of all life. A very spiritual place and sacred for all the native people around it.

Upon arrival at the falls it is time for the first dip in the water. We will follow the narrow trails leading up to the pools and here we will enjoy the rainforest, jumping from rocks and swimming in the water.
During the day we will serve snacks and drinks.

We can bring bow and arrow to try this traditional tool, small yari yari rods to try catching small fish or show skills in fire lighting before making hot water for a cup of tea or coffee.

Early in the afternoon will we once again start our bicycle ride back towards Lethem.
We will go in slow past and enjoy the view of the area before entering the city once again.
Here we will drop people of at the hotel for a good night sleep.

Please note:
There is a good chance of exposure to sun during bicycling so remember to bring long sleeves and a sun hat. The bicycling ride is about 80 -120 minutes each way. The terrain is easy with small hills, dirt roads and can sometimes be muddy.

It is the guests' own responsibility to check bicycle in advance and let the guide know if anything should be fixed prior to leaving Lethem. If the guests do not accept the offer of wearing a helmet a paper needs to be signed prior to tour. This will release company for liability.

The ability to bicycle trouble free is a must to participate in this tour.
---
Selecteer een maand om de beschikbaarheidskalender en vertrekinformatie te bekijken.
Vertrekpunt:
Lethem at an agreed location
---
Klik op de link hieronder als u de prijs en beschikbaarheid wilt controleren op de reisdatum die uw voorkeur heeft. Onze prijzen worden voortdurend bijgewerkt, zodat we u altijd de laagst mogelijke prijs kunnen bieden.
---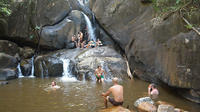 Kumu Falls

Inbegrepen:
Professional guide
Entrance fee
Village fee
Snacks and drinks
Coffee and tea
Bicycle and helmet
Water
Hydration system (optional)
Backpack (optional)
Niet inbegrepen:
Personal travel insurance (This is a must! Nobody is allowed to participate in the tour without being able to give policy number, emergency contact number and name of insurance company)
Alcohol
Gratuities (optional)
Aanvullende informatie:
Confirmation will be received within 48 hours of booking, subject to availability
What to bring: Bathing clothes, towel/sarong, sun screen, mosquito repellent (Containing DEET), long sleeved shirt and sun glasses
Minimum age is 14 years
Voucherinfo
Voor deze activiteit kunt u een papieren of een elektronische coupon tonen.
Wat is dit?
Informatie lokale operator:
Volledige informatie over de operator, inclusief telefoonnummers op uw bestemming, wordt vermeld op uw bevestigingsvoucher. Onze productmanagers selecteren alleen de meest ervaren en betrouwbare operators op iedere bestemming. Maakt u zich geen zorgen, dit is voor u geregeld.
---
Alle verkopen zijn onherroepelijk en bij annulering wordt 100% van de kosten doorberekend.