Your tour includes both a scenic air tour in a 14-seater Cessna Caravan aircraft plus a ground tour of the Arygle Diamond Mine where famous pink diamonds are mined. Your scenic flight passes over the stunning Lake Argyle and the famous Bungle Bungle Range in the World Heritage listed Purnululu National Park. After landing at the mine you will be taken on a fascinating ground tour through the processing plant, overlook the open cut pit. Enjoy a buffet lunch and experience the conditions of a worker first hand.
Talen tour
Dit maakt u maar eens in uw leven mee
Veilige en hoge kwaliteits helikopters
Kleine groep garandeert persoonlijke service
Allesomvattende tour
Lunchbuffet inbegrepen
Gratis ophalen/afzetten bij hotel inbegrepen
Your courtesy transfer to our air conditioned terminal will commence 45-minutes prior to departure.
You will receive a Bungle Bungle handout and a briefing from your pilot in the terminal where you can also collect your complimentary bottled water and lollies.

Your flight in our air conditioned 14-seater aircraft will see you flying out over Lake Kununurra, over the Ord Irrigation scheme and then down to Lake Argyle and the Ord Top Dam Wall. Be enthralled with the full expanse of Lake Argyle. Continue down to the Bungle Bungle Range where you will be amazed by the beehive domes which make up the Purnululu National Park. You will have 20-minutes to experience the aerial views and really appreciate the spectacular scenery.

You will land at the Argyle Diamond Mine where you will jump into our air conditioned mini bus and start your ground tour. Firstly you will visit the village store where Argyle souvenirs and Argyle diamond jewellery can be purchased. Buffet lunch will then be served to allow you to experience the conditions as a mine worker first hand.

Visit the lookout point to view the open cut mine site. Return to the mini bus where your driver will take you through the processing plant and explain the technology and processes used in diamond production. See the diamond display gallery featuring over $1 million of Argyle Diamonds and jewellery.

On your way back to Kununurra you will overfly Lake Argyle and the Carr Boyd ranges.

Throughout your tour your pilot will offer personalized commentary. This tour gives a fantastic insight into diamond production with amazing views of the East Kimberley.

On return to Kununurra you will be dropped back off at your accommodation.
---
Selecteer een maand om de beschikbaarheidskalender en vertrekinformatie te bekijken.
Vertrekpunt:
Aviair terminal situated next to Kununurra domestic airport.
Duur:
6 uur 30 minuten (circa)
Gegevens terugreis:
Aviair terminal.
---
Klik op de link hieronder als u de prijs en beschikbaarheid wilt controleren op de reisdatum die uw voorkeur heeft. Onze prijzen worden voortdurend bijgewerkt, zodat we u altijd de laagst mogelijke prijs kunnen bieden.
---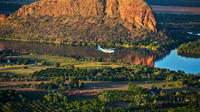 Scenic flight from Kununurra

Inbegrepen:
Buffet lunch
FREE GIFT- take this tour and receive your very own Argyle Diamond
Live commentary on board
Hotel pickup and drop-off
Fixed-wing air tour
Air conditioned 14-seater aircraft
Scenic flight plus ground tour
Small-group tour
Transport by air-conditioned mini bus
Niet inbegrepen:
Argyle Diamonds regulations prohibit children under the age of 12 years from participating in this tour
Children under the age of 18 must be accompanied by an adult
Gratuities (optional)
Aanvullende informatie:
Confirmation will be received within 48 hours of booking, subject to availability
Argyle Diamonds regulations prohibit children under the age of 12 years from participating in this tour
Children 12-17 years must be accompanied by an adult
Dress code-tour participants are to wear sturdy fully enclosed shoes with low heels
All passengers are required to sign the Conditions of Entry to Designated Areas form. Argyle Diamonds security officers have the right to search any person or personal items on exiting the Designated Area
Voucherinfo
Voor deze activiteit kunt u een papieren of een elektronische coupon tonen.
Wat is dit?
Informatie lokale operator:
Volledige informatie over de operator, inclusief telefoonnummers op uw bestemming, wordt vermeld op uw bevestigingsvoucher. Onze productmanagers selecteren alleen de meest ervaren en betrouwbare operators op iedere bestemming. Maakt u zich geen zorgen, dit is voor u geregeld.
---
Alle verkopen zijn onherroepelijk en bij annulering wordt 100% van de kosten doorberekend.