For a fun kayaking Kauai activity, paddle tandem kayaks along the Hule'ia River and travel deep into the heart of the Kauai island jungle. Then, go Kauai hiking on a 3/4-mile (1.2km) trek up the valley to an enchanting area of waterfalls and swimming holes. On the way back, be picked up in a twin-hulled powered Hawaiian canoe for the return trip!
Talen tour
On this 2 mile (3.2km) kayaking Kauai adventure, you'll travel through the Hule'ia National Wildlife Refuge, a place for the preservation of endangered Hawaiian water birds. You'll paddle past the living archaeological site of Alekoko (Menehune) Fishpond, and get a taste of the ancient people's fishing and aquaculture methods that are still utilized today. The backdrop is the magnificent Haupu Mountain Range, a dramatic and majestic 2000' (600 meter) shield volcano that looms over the river. The destination is a series of 3 pool-drop waterfalls with a swimming hole known as Hidden Falls.

The area is steeped in legend and your guides will tell you exciting stories about the supernatural inhabitants who resided in the valley long ago. Hule'ia has been the site of filming for a wide range of major motion pictures including Raiders of the Lost Ark, Jurassic Park and its sequel, Lost World.

You'll leave your kayaks behind and set out on a 1.5 mile (2.4km) round trip guided Kauai hiking nature walk through a pristine tropical rain forest containing many different communities of plants, birds and aquatic life. You'll stop along the way at swimming holes with rope swings before reaching Hidden Valley Falls, a captivating series of pool-drop waterfalls cascading over black lava rock. Here you'll have some snacks and cold drinks while enjoying the scenery before heading back down to the river for a fun trip back in a double-hulled powered canoe. It's cheating, but who cares?
Restrictions: You must be able to walk 1.5 miles (2.4km) & kayak 60-90 minutes.
---
Selecteer een maand om de beschikbaarheidskalender en vertrekinformatie te bekijken.
Vertrekpunt:
Poipu Area or West Side Resorts: Poipu Plaza
East Side or North Shore Resorts: Kayak Shack

Vertrektijd:
Poipu Area or West Side Resorts:
East Side or North Shore Resorts:
Duur:
4 uur 30 minuten (circa)
---
Klik op de link hieronder als u de prijs en beschikbaarheid wilt controleren op de reisdatum die uw voorkeur heeft. Onze prijzen worden voortdurend bijgewerkt, zodat we u altijd de laagst mogelijke prijs kunnen bieden.
Poipu/West Side 8:45am

Code: PW845

8:45 am departure from Poipu (for Poipu and West Side resorts)

East/North Shore

Code: EN930

9:30am departure from Nawiliwili (for East & North Shore resorts)
---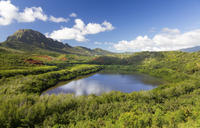 Menehune Pond

Inbegrepen:
Deluxe two-person kayak
Snacks and beverages
Picnic lunch
Local taxes
Niet inbegrepen:
Hotel pickup and drop off
Gratuities (optional)
Aanvullende informatie:
Confirmation will be received at time of booking, unless booked within 2 days of travel. In this case confirmation will be received within 48 hours, subject to availability
Minimum of 4 passengers required for tour departure. Maximum of 20 passengers per tour
Approximately one guide for every 8 - 12 passengers
Items to bring: Swimwear, footwear with an aggressive tread pattern and that can get wet (i.e. Teva-type sandals or aqua socks), towel, sunscreen, insect repellant, waterproof camera
Picnic lunch includes: turkey sub sandwich, pasta salad & homemade brownies
Aanvullende informatie bekijken
Voucherinfo
Voor deze activiteit kunt u een papieren of een elektronische coupon tonen.
Wat is dit?
Informatie lokale operator:
Volledige informatie over de operator, inclusief telefoonnummers op uw bestemming, wordt vermeld op uw bevestigingsvoucher. Onze productmanagers selecteren alleen de meest ervaren en betrouwbare operators op iedere bestemming. Maakt u zich geen zorgen, dit is voor u geregeld.
---
Alle verkopen zijn onherroepelijk en bij annulering wordt 100% van de kosten doorberekend.