Enjoy a mind-blowing journey as you step into a spectacular, futuristic maze like worlds of wonder. This incredible series of 20 multi-sensual environments of illusions and effects will blow you away with it's out of this world experience! Immerse yourself in futuristic maze-like illusions and atmospheric sound fields that go all the way to INFINITY! This Gold Coast's attraction is the first of it's kind in the world offering an exciting, hilarious interactive experience for the whole family. Dare to cross the bottomless Light Canyon, challenge your senses or float in the ethereal Star Chamber.
Familievriendelijk
Kan reisplan aan eigen voorkeuren aanpassen
Uitstekende waarde voor uw geld.
Geliefd bij kinderen
Directe bevestiging
Step into a world of amazement as you witness the incredible futuristic maze-like environments of INFINITY on the Gold Coast. The first of it's kind, this hilarious interactive experience will leave you laughing and screaming as you discover the many unexpected illusions and special effects throughout this journey.

Experience the fun house of the future as you immerse yourself in an extraordinary series of 20 multi- sensual environments filled with unique special effects, emotive atmospheric sound fields and amazing spectacular illusions that appear to go all the way to INFINITY!

A great family experience for all ages and a popular venue choice for parties, unique group or team building activities, this Gold Coast attraction is an experience not to miss.
---
Selecteer een maand om de beschikbaarheidskalender en vertrekinformatie te bekijken.
Vertrekpunt:
Surfers Paradise
Vertrektijd:
10am to 10pm
---
Klik op de link hieronder als u de prijs en beschikbaarheid wilt controleren op de reisdatum die uw voorkeur heeft. Onze prijzen worden voortdurend bijgewerkt, zodat we u altijd de laagst mogelijke prijs kunnen bieden.
---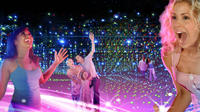 Electron Maze

Inbegrepen:
General admission ticket

2-hours free undercover parking
Niet inbegrepen:
Digital souvenir photo packages
Gift shop purchases

Aanvullende informatie:
Confirmation will be received at time of booking


If special effects lighting, sound, dark confined spaces or illusions of height and depth cause you concern, please make further inquiries before entry

You must not enter INFINITY if you have consumed alcohol or drugs

INFINITY is not recommended for children under 8 years or for anyone with an unusual fear of darkness

Children under the age of 8 years must be accompanied by an adult/carer who accepts responsibility for their care, safety and conduct

Prams and children in backpacks cannot be admitted

Babies carried in forward carrying slings will only be admitted at parent's risk. It is recommended against entering with a baby or toddler

Children must be able to walk through unassisted

A carer accompanying a disabled guest to assist that guest will be admitted free of charge providing a current valid Carer's Card (or similar) issued by relevant State or Commonwealth authorities is produced.

Lockers are available for personal belongings, bags, sunglasses, mobiles devices, umbrellas etc

Design and systems of Infinity are protected by copyright and other intellectual property rights. You must not infringe those rights.

Your image may be taken at any time for security or sales purposes and may be used by us for our commercial purposes without payment to you.

Prices are valid until 31st March 2016 unless otherwise stated on special offers.

Although there is nothing in INFINITY that is designed to frighten (e.g. nothing jumps out or grabs you) some people may feel dismay due to the 'unknown'. In the Mystery Zone (only one of 20 zones) patrons use their sense of touch to feel their way under very low light effects. If you think that you or your child might be adversely affected you should refrain from entering or purchase a glow stick on entry.

Visitors must be in good health, agile and free from any potentially adverse medical conditions. You should seek medical advice if uncertain.

Expectant mothers should seek medical advice before entering.

If low light levels, fog effects, strobe lighting might affect you, seek advice before entry

INFINITY has some areas with uneven and moving floors which may affect people with mobility problems, knee, leg or ankle injuries or who lack agility, so please seek advice before entry

Enclosed footwear should be worn within Infinity
Voucherinfo
Voor deze activiteit kunt u een papieren of een elektronische coupon tonen.
Wat is dit?
Informatie lokale operator:
Volledige informatie over de operator, inclusief telefoonnummers op uw bestemming, wordt vermeld op uw bevestigingsvoucher. Onze productmanagers selecteren alleen de meest ervaren en betrouwbare operators op iedere bestemming. Maakt u zich geen zorgen, dit is voor u geregeld.
---
Als u ten minste 7 dag(en) voor het geplande vertrek annuleert, worden er geen annuleringskosten gerekend.
Als u tussen 3 en 6 dag(en) voor het geplande vertrek annuleert, worden er annuleringskosten op basis van 50 procent gerekend.
Als u binnen 2 dag(en) voor het geplande vertrek annuleert, worden er annuleringskosten op basis van 100 procent gerekend.