Immerse yourself in the dramatic beauty of Easter Island on this full-day tour from Hanga Roa, and wander through various landscapes with 'moai,' gigantic human figure statues sculpted by the indigenous Rapa Nui. Against an ocean backdrop, discover the original ceremonial site of Ahu Akahanga and ponder over its toppled moai. Then view restored statues at Ahu Tongariki, before exploring the volcanic slopes and quarry of Rano Raraku, where most moai originated and can be found. Finish the day by relaxing on the white sand beach of Anakena.
Talen tour
Dagtrip (van bestemming A naar B)
Gratis ophalen/afzetten bij hotel inbegrepen
Tour met doorlopend commentaar
Directe bevestiging
Informatieve, vriendelijke en professionele gids
Lunch inbegrepen
On your sightseeing adventure, you'll come across moai, stone giants that on average stand 13 feet (4 meters) tall and weigh 14 tons (13 metric tons). Said to represent ancestral spirits or preeminent tribal figures, some moai are placed upon
ahu
, or ceremonial sites.
After hotel pickup, your guide takes you to Ahu Akahanga, located on the southeastern coast of the island. Unlike most ahu, Akahanga has not been restored, allowing you to stumble upon the area as European explorers first did. The platform, about 59 feet (18 meters) long, originally contained about a dozen moai and is believed to be the burial site of Polynesian king Hoto Matu'a.
Walk about the grounds sprawled with overturned moai that have
pukao
, decorative head topknots, with tribal fighting providing one explanation for this curious scene.
Next, head north up the coastline to Ahu Tongariki, the largest ceremonial site with an impressive row of 15 upright moai. Learn how a tsunami in 1960 sent these statues, some weighing 30 tons (27 metric tons), flying several hundred feet inland. Restoration of this site took five years and was completed in 1992.

Then travel inland to Rano Raraku, where on its volcanic slopes Rapa Nui sculptors had carved moai from volcanic stone before moving about one third of them to various ahu. Many of the island's 800-plus moai remain in the quarry and close by; as you trek with your guide toward the stone pit, you'll see poking up from the grassy earth hundreds of moai heads or partially buried torsos.

Enjoy a barbecue lunch (provided) at a nearby camping area, which includes chicken and other meats, fish, salad, rice, fruit and water. A vegetarian option can be arranged upon request. You'll spend about 2.5 hours in total at Rano Raraku with lunch time.

Refueled, continue north to Ahu Te Pito Kura and marvel at Paro, the tallest moai ever erected at 33 feet (9.8 meters) tall and weighing 82 tons (74 metric tons). Here, your guide points out a round magnetic stone, referred to as the 'navel of the world,' said to have been brought over by King Hotu Matu'a.

Along the northern coast, reach your final stop at Anakena and explore the extremely well-preserved seven moai of Ahu Nau Nau, four of them wearing pukao. At this site, archaeologists located one nearly complete coral eye, inlaid with red volcanic scoria stone.

Your sightseeing complete, swim or stroll along Anakena, one of the few white sand beaches on the island, for about 30 minutes before being transported back to your hotel. Or feel free to stay longer, and your guide will arrange a cab ride for you (own expense) when you're ready to return to your accommodation. Changing rooms with showers are available on site for a small fee.
---
Selecteer een maand om de beschikbaarheidskalender en vertrekinformatie te bekijken.
Vertrekpunt:
Tour departs from Easter Island hotels
Gegevens terugreis:
Returns to original departure point
---
Klik op de link hieronder als u de prijs en beschikbaarheid wilt controleren op de reisdatum die uw voorkeur heeft. Onze prijzen worden voortdurend bijgewerkt, zodat we u altijd de laagst mogelijke prijs kunnen bieden.
---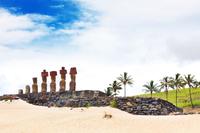 Ahu Tongariki, Rano Raraku and Anakena Beach Full-Day Tour Including Lunch

Inbegrepen:
Professional guide
Hotel pickup and drop-off
Transport by air-conditioned van

BBQ lunch
Niet inbegrepen:
Gratuities (optional)
Entrance fee to Rapa Nui National Park (30,000 Chilean pesos)

Entrance fee to

the Mo'ai sites
Aanvullende informatie:
Confirmation will be received at time of booking
Children must be accompanied by an adult

It is recommended that you wear a bathing suit and bring a towel, sunglasses and sunscreen
Vegetarian option is available, please advise at time of booking if required
Note: Port pickup is not available
Voucherinfo
Voor deze activiteit kunt u een papieren of een elektronische coupon tonen.
Wat is dit?
Informatie lokale operator:
Volledige informatie over de operator, inclusief telefoonnummers op uw bestemming, wordt vermeld op uw bevestigingsvoucher. Onze productmanagers selecteren alleen de meest ervaren en betrouwbare operators op iedere bestemming. Maakt u zich geen zorgen, dit is voor u geregeld.
---
Als u ten minste 7 dag(en) voor het geplande vertrek annuleert, worden er geen annuleringskosten gerekend.
Als u tussen 3 en 6 dag(en) voor het geplande vertrek annuleert, worden er annuleringskosten op basis van 50 procent gerekend.
Als u binnen 2 dag(en) voor het geplande vertrek annuleert, worden er annuleringskosten op basis van 100 procent gerekend.