This is the classic "back way" bike ride to Machu Picchu via Santa Maria and Santa Teresa, known as the Inca Jungle or BackDoor to Machu Picchu trip. It is not a mountain bike ride in the classic sense as the road is paved, however it is an extremely popular route due to the incredible scenery along the way and for people who wish to avoid the cost and hassle of taking the train.
Meerdaagse trip
Informatieve, vriendelijke en professionele gids
Ophalen van hotel inbegrepen
This 3-day, 2-night tour will get you from Ollantaytambo to Machu Picchu and back with everything included. Meals included are breakfast, lunch, dinner and snacks on Day 1, breakfast, lunch, and snacks on Day 2, and breakfast on Day 3. Also included is private vehicle transport from Ollantaytambo up to the start of the ride at Abra Malaga, entrance to Machu Picchu, a full suspension mountain bike with hydraulic disc brakes, all necessary equipment and a bilingual guide knowledgeable in the area and its culture. See itinerary for details.
---
Selecteer een maand om de beschikbaarheidskalender en vertrekinformatie te bekijken.
Vertrekpunt:
Ollantaytambo hotels
Vertrektijd:
9am
U wordt vóór deze tijd bij uw hotel opgehaald
Gegevens terugreis:
Ollantaytambo
---
Klik op de link hieronder als u de prijs en beschikbaarheid wilt controleren op de reisdatum die uw voorkeur heeft. Onze prijzen worden voortdurend bijgewerkt, zodat we u altijd de laagst mogelijke prijs kunnen bieden.
---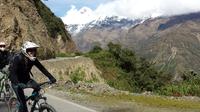 Descending to Santa Maria

Inbegrepen:
2 nights accommodation
Roundtrip transportation from Ollantaytambo to Machu Picchu and back
Breakfast, lunch, dinner and snacks on Day 1
Breakfast, lunch, and snacks on Day 2
Breakfast on Day 3
Private vehicle transport from Ollantaytambo up to the start of the ride at Abra Malaga
Entrance to Machu Picchu (not including optional Huayna Picchu access)
Roundntrip shuttle bus ticket from Aguas Calientes to Machu PIcchu
One way train ticket from Aguas Calientes to Ollantaytambo.
Full suspension mountain bike with hydraulic disc brakes
Helmet, and full fingered gloves,
Bilingual guide
Niet inbegrepen:
Zipline




Huayna Picchu access



Aanvullende informatie:
Confirmation will be received within 48 hours of booking, subject to availability
Minimum age is 14 years
A minimum of 2 people per booking is required

It is recommended that you pack lightly as you will have to carry everything you bring on your back between the Hydro Electric and Aguas Calientes, in the afternoon of Day 2.

Please bring comfortable clothes as the bike ride from Abra Malaga down to St. Maria is dusty and dirty during the dry season, and pretty wet during the rainy season

Please bring sandals, long sleeve, lightweight, breathable quick drying shirt and same material for pants. Insect repellent and sunscreen are also good ideas
Reisplan:
Day 1:
Your mountain biking to Machu Pichu day involves 75 Km and 3,312 meters of vertical descent on a asphalt road, taking you from the Andes to the Amazon – the most adventurous way to get to Machu Picchu. From Ollantaytambo, you'll head out for the drive up to Abra Malaga, where the biking begins, following the same route that the Inca Ollanta took in the 16th Century when he led his people to escape from the Spanish. The ride begins at the base of a massive glacier, and finishes among the coffee and banana plants of the high Amazon jungle. Along the way you will pass by more waterfalls than you can count, plus at least two different Inca sites that are just now being uncovered. The scenery on this bike ride is simply spectacular, and the ride is all downhill – 75 kilometers with virtually no pedaling! The bike tour finishes in the small jungle village of Santa Maria. After arriving and enjoying a nice cold one, we jump into local transport for the hour transfer to Santa Teresa and then on to our hotel in St. Theresa, where dinner is included and a nice nights stay.
Day 2:
After breakfast you have two options: lounging in town along the Urubamba river and going to the Cocalmayo hot springs, or else doing one of the funnest ziplines in South America. This adrenaline pumping ride consists of several sections of zipline totaling over a kilometer of high wire. Criss-crossing the valley, you begin the ride about 250 meters above the valley floor and finish at the bottom. This activity has an additional cost. The other option is spend a relaxing morning in town by the river and under the tropical sun, or just hang out at the zipline area but not actually do the zipline. After finishing the morning's activities, you take local transport arriving at the Hydro Electrica plant. You'll then begin to make your way to Aguas Calientes. You'll have a relaxing and scenic 3-hour trek along the railway lines where you will see the first views of Machu Picchu itself and some new parts of it being uncovered – these are only view able from this walk. In the late afternoon you will arrive in Aguas Calientes and the hostel for the night. You'll get all your Machu Picchu documents – entrance to Machu Picchu, roundtrip bus tickets from Aguas Calientes to Machu Picchu, and your train ticket back to Ollantaytambo – all of which are included.

Day 3:
On this day, you'll visit Machu Picchu, one of the 7 Wonders of the World. Whether you get up early (buses begin leaving town for the 20 minute drive up to Machu Picchu starting at 5.30am), or begin at a more decent hour is up to you, as today's trip is not guided but rather on your own. Your breakfast is included free at the hotel, no matter what hour you begin. Due to the high surrounding mountains, sunrises tend to be a little less dramatic than people hope but nothing can diminish the awe and beauty of seeing Machu Picchu for the first time. Spend as long as you wish here, as your train leaves around 9.25pm, which gives you the entire day to visit Machu Picchu followed by a celebratory dinner in town.
Voucherinfo
Voor deze activiteit kunt u een papieren of een elektronische coupon tonen.
Wat is dit?
Informatie lokale operator:
Volledige informatie over de operator, inclusief telefoonnummers op uw bestemming, wordt vermeld op uw bevestigingsvoucher. Onze productmanagers selecteren alleen de meest ervaren en betrouwbare operators op iedere bestemming. Maakt u zich geen zorgen, dit is voor u geregeld.
---
Als u ten minste 7 dag(en) voor het geplande vertrek annuleert, worden er geen annuleringskosten gerekend.
Als u tussen 3 en 6 dag(en) voor het geplande vertrek annuleert, worden er annuleringskosten op basis van 50 procent gerekend.
Als u binnen 2 dag(en) voor het geplande vertrek annuleert, worden er annuleringskosten op basis van 100 procent gerekend.