Explore Australia's World Heritage-listed tropical rainforest at the Rainforestation Nature Park in Kuranda. The park is set on 100 acres (40 hectares) of pristine rainforest within five minutes of Kuranda village, accessible from Cairns by road or by the Skyrail Rainforest Cableway or the Kuranda Scenic Railway (transport between Cairns and Kuranda is not included). This eco-friendly Kuranda attraction offers three unique experiences: the Army Duck Rainforest Tour with Tropical Fruit Orchard, Pamagirri Aboriginal Experience, and the Koala and Wildlife Park.
Your day at the Rainforestation Nature Park includes the following tours and experiences: 

Pamagirri Aboriginal Experience (1 hour)
Get an insight into the world's longest-living culture, that of the Australian Aborigines. Hear the Dreamtime stories, watch a corroboree (traditional dance) performance and learn how to throw a boomerang or play the didgeridoo. The Pamagirri Aboriginal Experience takes approximately one hour, including the Pamagirri Aboriginal Dance Show held in the Rainforest Amphitheatre daily at 10:30am, noon and 2pm, and the Dreamtime Walk conducted either before or after the show. Dreamtime walks are available at 10am, 11am, 11:30am, 12:30pm, 1:30pm and 2:30pm.

Army Duck (1 hour)
There's no better way to see the rainforest than in an Army Duck. This all-terrain, amphibious World War II Army Duck will have you driving down dirt tracks and cruising the waterways. As you traverse part of the property on your unforgettable 45-minute rainforest tour, your knowledgeable Duck Captain / guide will point out and explain the native flora and fauna. Army Duck tours depart daily at 10am, 11am, noon, 1pm, 2pm and 3pm.

Koala and Wildlife Park (30 minutes)
Take a walk with the keepers along the boardwalks at the Koala and Wildlife Park for a close-up view of Australia's unique native animals. See crocodiles, wallabies and the shy cassowary foraging for food. For an additional cost (payable direct), you can have your picture taken holding a cuddly koala or even a small crocodile! The park is open every day from 9am to 4pm, with talks and demonstrations available throughout the day.
---
Selecteer een maand om de beschikbaarheidskalender en vertrekinformatie te bekijken.
Vertrekpunt:
Rainforestation Nature Park
Vertrektijd:
Open from 9am-4pm
---
Klik op de link hieronder als u de prijs en beschikbaarheid wilt controleren op de reisdatum die uw voorkeur heeft. Onze prijzen worden voortdurend bijgewerkt, zodat we u altijd de laagst mogelijke prijs kunnen bieden.
Big Nature Package

Code: BNP

General admission to Rainforestation including Army Duck tour, Pamagirri Aboriginal Experience, and Koala and Wildlife Park

4 Park Pass

Code: 4PARK

General admission pass to the following 4 top attractions -- Cairns Wildlife Dome, Wildlife Habitat Port Douglas, Rainforestation Nature Park and the Australian Butterfly Sanctuary
---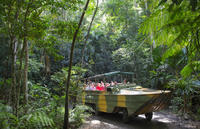 Kuranda Rainforestation Nature Park

Inbegrepen:
General admission to 3 attractions at Rainforestation Nature Park
Niet inbegrepen:
Food and drinks
Hotel pickup and drop-off
Transport to and from Kuranda
Shuttle between Kuranda village and Rainforestation Nature Park
Aanvullende informatie:
Confirmation will be received at time of booking
Reisplan:
Upgrade to the 4 Park Pass for unlimited fun at 4 top attractions: Save over 20% on the single entry price by combining your visit to Rainforestation Naure Park with the following attractions.

Cairns Wildlife Dome: Discover the sights and sounds of the rainforest right in the heart of Cairns at the Cairns Wildlife Dome. See native birds fly freely around you in the glass-enclosed rooftop dome, get eye to eye with Goliath the saltwater crocodile, and meet the reptiles, wallabies and koalas.

Wildlife Habitat Port Douglas: Get up close to Australian native flora and fauna at Wildlife Habitat located just outside of Port Douglas. There are four different environments to explore – the Wetlands, Rainforest, Woodland and Savannah, each with unique habitats.

Australian Butterfly Sanctuary: Located in the heart of Kuranda, the Australian Butterfly Sanctuary is the largest butterfly flight aviary in Australia. This unique all-weather attraction is home to over 1,500 magnificent tropical butterflies.

Please note: You do not need to visit all the attractions in the one day. Entry for subsequent attractions is valid for one month from the date of entry for the first attraction.
Voucherinfo
Voor deze activiteit kunt u een papieren of een elektronische coupon tonen.
Wat is dit?
Informatie lokale operator:
Volledige informatie over de operator, inclusief telefoonnummers op uw bestemming, wordt vermeld op uw bevestigingsvoucher. Onze productmanagers selecteren alleen de meest ervaren en betrouwbare operators op iedere bestemming. Maakt u zich geen zorgen, dit is voor u geregeld.
---
Als u ten minste 7 dag(en) voor het geplande vertrek annuleert, worden er geen annuleringskosten gerekend.
Als u tussen 3 en 6 dag(en) voor het geplande vertrek annuleert, worden er annuleringskosten op basis van 50 procent gerekend.
Als u binnen 2 dag(en) voor het geplande vertrek annuleert, worden er annuleringskosten op basis van 100 procent gerekend.