Mauna Kea is home to the world's largest telescopes and has atmospheric clarity better than anywhere else on earth. You'll see breathtaking views from Hawaii's tallest volcano. Mauna Kea is also well known for its spectacular sunsets and night time star gazing.
Talen tour
Kleine groep garandeert persoonlijke service
Ophalen van hotel inbegrepen
Diner inbegrepen
Gratis drankjes inbegrepen
The drive to the summit of Mauna Kea is one you'll never forget. Mauna Kea is the world's tallest mountain, rising more than 32,000 feet (9,754 meters) from the ocean floor to its summit, which is considered by many Hawaiians to be the most sacred place in all the islands. The road climbs 13,796 feet (4,205 meters) above sea level. You'll stand in awe at both nature's sublime creation and man's astonishing technological achievements.

After your pickup at a designated hotel in Hilo (outside Hilo area pick ups at designated meeting place), watch as your transport passes lush green flora and moonscape lava fields. As the car turns onto the Saddle Road, which travels the island between Mauna Loa and Mauna Kea, you'll see a dramatic and diverse landscape of ranch land, sub-alpine forest and rainforest (with striking features such as cinder cones, lava flows, lava tubes and kipuka).

You will first spend some time acclimating at the 9,200 foot level while enjoying hot soup. After dinner and with a provided jacket in hand, you'll make the 45 minute drive to the summit. As your make your way up, listen to the guide's interpretation of Hawaii's remarkable natural, cultural and geologic history.

Once at the summit, soak in spectacular views of the horizon, Haleakala on Maui, Mauna Loa and Hualalai. Mauna Kea's summit is also home to a world-class array of telescopes.

After sunset, you will descend to the Visitor's Information Station at 9,000 foot elevation for a special stargazing show from volunteer astronomers. Wrapped warm in provided Arctic parkas, you'll enjoy hot beverages and cookies while marveling at the brilliance of the Hawaiian night sky. Your guide will share stories of the observable universe, and offer you a personal and educational look at the heavens. You'll then be returned to your original pickup location.
---
Recente fotos van deze tour
---
Selecteer een maand om de beschikbaarheidskalender en vertrekinformatie te bekijken.
Vertrekpunt:
Pick-up Locations in Hilo:
(If you are lodging out of Hilo, we will meet at the Hilo Hawaiian Hotel) 
Dolphin Bay Hotel 

Grand Naniloa Hotel 

Hilo Back Backers Hostel 

Hilo Bay Hostel

Hilo Hawaiian Hotel 

Pagoda Uncle Billy's Hilo Bay Hotel

Reeds Bay Hotel

Sea Side Hotel 

Wild Ginger Inn

Pu'u Huluhulu hill  (Meeting location) This location is about 40-minutes away from Hilo and 75-minutes away from the volcano
Vertrektijd:
Between 2pm - 4pm
Times change throughout the year and depending on your lodging location
Gegevens terugreis:
Returns to original departure point
---
Klik op de link hieronder als u de prijs en beschikbaarheid wilt controleren op de reisdatum die uw voorkeur heeft. Onze prijzen worden voortdurend bijgewerkt, zodat we u altijd de laagst mogelijke prijs kunnen bieden.
---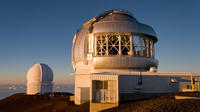 Mauna Kea Summit Adventure

Inbegrepen:
Small-group tour
Bottled Water, hot coco, fleece-hooded jacket, hot Ramen noodle soup dinner or miso soup for vegetarian
Professional guide
Hotel pickup and drop-off (selected hotels)
Aanvullende informatie:
Confirmation will be received within 48 hours of booking, subject to availability
Guests should be able to walk on uneven or rocky terrain
Because of high altitude this tour is not advised for those with respiratory, circulatory or heart conditions, pregnancy, or poor health
Scuba divers should be aware of altitude dangers; so no diving within 24 hours of going to Mauna Kea summit
Children must be 13 years or older to go to the summit of Mauna Kea
If anyone appears to be having a hard time with the altitude, it is up to the guide's judgment whether you can continue to the summit (no refund available)
If the guide feels it is a safety concern, you will be brought back down to the visitor's center while the rest of the group continues the sunset portion of the tour and then rejoin the group for the stargazing (no refund available)
Alcohol is not allowed on this tour
If you are intoxicated at the time of departure, the guide has the right to refuse service of the tour due to your safety and the safety of others (no refund available)
If the summit road is closed, all guests will be contacted and either be rescheduled or fully refunded
Most stormy days are predictable, however, there can be unpredictable and fast-changing weather
If the rangers have closed the summit road for safety reasons, we may have to change the itinerary (no refund available)
Operates in all weather conditions, please dress appropriately
Voucherinfo
Voor deze activiteit kunt u een papieren of een elektronische coupon tonen.
Wat is dit?
Informatie lokale operator:
Volledige informatie over de operator, inclusief telefoonnummers op uw bestemming, wordt vermeld op uw bevestigingsvoucher. Onze productmanagers selecteren alleen de meest ervaren en betrouwbare operators op iedere bestemming. Maakt u zich geen zorgen, dit is voor u geregeld.
---
Als u ten minste 7 dag(en) voor het geplande vertrek annuleert, worden er geen annuleringskosten gerekend.
Als u tussen 3 en 6 dag(en) voor het geplande vertrek annuleert, worden er annuleringskosten op basis van 50 procent gerekend.
Als u binnen 2 dag(en) voor het geplande vertrek annuleert, worden er annuleringskosten op basis van 100 procent gerekend.