The Kona Coast of Hawaii is considered the primary place in the world to view manta rays. During a 2-hour snorkeling tour with a knowledgeable guide, watch these gentle creatures feed on plentiful plankton attracted by underwater lights. With wingspans that can reach more than 20 feet (6 meters) across, manta rays have no teeth or barb on the tail. A wetsuit and light refreshments are provided during either sunset or moonlight option.
Talen tour
Kom in contact met wilde dieren
Dit maakt u maar eens in uw leven mee
Informatieve, vriendelijke en professionele gids
Hapjes en drankjes inbegrepen
Uitstekende waarde voor uw geld.
Snorkel with manta rays, only seen in the warm waters off the Kona Coast of the Big Island. Don't miss this spectacular 2-hour experience during a Hawaiian sunset or under moonlight. Meet your guide at Honokohau Harbor and board a boat to the snorkel location, just a 10–15 minute ride away. 

As the sun sets you'll tuck into a bay at the manta feeding area. Learn about the manta rays in Hawaii and receive a safety briefing on viewing guidelines and proper etiquette while in the water. Slip into a provided wetsuit, which helps keep you warm in temperatures that average 65 to 70 degrees, then put on your snorkel gear and enter the water with your guide. For a less crowded snorkeling experience, opt for a later moonlit tour. 
You will hold onto a comfortable bar attached to a large surfboard with LED drop lights, allowing you to watch as mantas feed on millions of minuscule plankton attracted by the bright lights. Your guide keeps your board positioned over the manta ray snorkeling area. The manta rays come very close and may even bump against you, but they are considered to be gentle giants of the sea; unlike eagle rays or stingrays they have no teeth or stinger.

With an 85 percent chance of seeing manta rays, sightings are guaranteed or you can go on a second outing that's complimentary.
---
Selecteer een maand om de beschikbaarheidskalender en vertrekinformatie te bekijken.
Vertrekpunt:
Honokohau Harbor fueling dock
Vertrektijd:
Departure times adjust year-round due to sunset
Sunset departure times vary from 4:30pm - 6pm
Moonlight departure times vary from 6:30pm - 8:30pm
Gegevens terugreis:
Honokohau Harbor
---
Klik op de link hieronder als u de prijs en beschikbaarheid wilt controleren op de reisdatum die uw voorkeur heeft. Onze prijzen worden voortdurend bijgewerkt, zodat we u altijd de laagst mogelijke prijs kunnen bieden.
---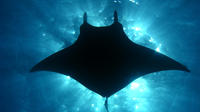 Manta Ray

Inbegrepen:
Snorkel gear
Wetsuits
Light refreshments
Snacks
Professional guide
Aanvullende informatie:
Confirmation will be received within 48 hours of booking, subject to availability
Not recommended for pregnant women
Weight restriction: 275 lbs
Please wear a swimsuit
Bring a towel
Bring warm clothes to change into after snorkeling (it can get chilly on the return ride)
Voucherinfo
Voor deze activiteit kunt u een papieren of een elektronische coupon tonen.
Wat is dit?
Informatie lokale operator:
Volledige informatie over de operator, inclusief telefoonnummers op uw bestemming, wordt vermeld op uw bevestigingsvoucher. Onze productmanagers selecteren alleen de meest ervaren en betrouwbare operators op iedere bestemming. Maakt u zich geen zorgen, dit is voor u geregeld.
---
Als u ten minste 7 dag(en) voor het geplande vertrek annuleert, worden er geen annuleringskosten gerekend.
Als u tussen 3 en 6 dag(en) voor het geplande vertrek annuleert, worden er annuleringskosten op basis van 50 procent gerekend.
Als u binnen 2 dag(en) voor het geplande vertrek annuleert, worden er annuleringskosten op basis van 100 procent gerekend.