The Volcano National park is located at the summit of Kilauea volcano and is the biggest attraction on the Big Island of Hawaii due to its unique features and long lasting volcanic activity.
Talen tour
Kleine groepstour
Informatieve, vriendelijke en professionele gids
Ideaal voor families
Meestal snel uitverkocht
Tour met doorlopend commentaar
Inclusief alle toegangsprijzen
The  Volcanoes National Park Tour highlights some of the Big Islands most precious gems such as our Rainforest Waterfalls, Orchid Flowers, Volcanically made Black Sand Beaches, Craters, Lava Tubes and much more!

This tour starts with a convenient pick up directly from the Hilo pier. As you settle into our comfortable small group vehicles we first pass through the historic town of Hilo and stop by a breathtaking 80 ft waterfall, Rainbow Falls. We then make our way to the summit of Kilauea volcano, in which sits The Volcanoes National Park. Once inside the Volcanoes National Park we walk through the cave like Thurston Lava Tube, Pier down into large craters and views the frozen black lava fields. Down the road just a bit are steaming vents and sulfur banks coming from the depths of the volcano. As we travel on, we then get to look into one of the largest craters and within it is a smoking pit. We then explore the Jagger Museum that shows many different types of lava formations, live seismographs and historical artifacts used by the first volcanologist. Our next stop will be the Akatsuka Orchid garden that displays more than 500 orchids and there are some that cost more than $20,000 dollars!  Hawaii is one of the largest producers of macadamia nuts, and we get to drive through the orchard and visit the farm. Here you can see the production and you get to taste many different types of flavored macadamia nuts. The macadamia nut farm also has a great parlor to purchase sandwiches, hot dogs and best of all, Coconut Macadamia nut Ice Cream! After satisfying our taste of goodies at the macadamia nut farm our last stop is Richardson Black Sand Beach where we can usually spot some sea turtles. The Black Sand Beach is a is a local favorite and is a great way to see how our ocean and volcanoes make fine black sand.

"Volcano National Park " is approximately 5.5-6  hours from start to finish.
---
Selecteer een maand om de beschikbaarheidskalender en vertrekinformatie te bekijken.
Vertrekpunt:
HILO PORT
The Volcanoes National Park Tour departs from the ship pier. When departing the ship you will enter a large building through double doors. Before exiting please look for your guide holding the sign "C Big Island Tours." We ask all guests to please plan to be at the designated departure location at least 10-15 minutes before the departure time listed above. REMEMBER- security does not let our guides in any earlier that 15 min before departure time If you are early, you are welcome to sit in the chairs in the front of the building and your guide will be there shortly.
Vertrektijd:
Check-in 9:45 AM / Depart 10:00 AM
( This is subject to change due to some ship's itinerary)

Gegevens terugreis:
Return Time 3:30pm - 4:00 pm
---
Klik op de link hieronder als u de prijs en beschikbaarheid wilt controleren op de reisdatum die uw voorkeur heeft. Onze prijzen worden voortdurend bijgewerkt, zodat we u altijd de laagst mogelijke prijs kunnen bieden.
---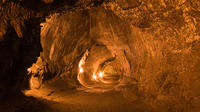 Walking through Lava Tube

Inbegrepen:
Port pickup and drop-off
Entrance fees
National Park fees
Bottled water
Snacks
Professional guide
Niet inbegrepen:
What to bring/wear: Walking shoes, and light sweater , camera, hat, sunglasses
Souvenirs
Gratuities (optional)
Stop is made to purchase food
Aanvullende informatie:
Confirmation will be received within 48 hours of booking, subject to availability
Free Infant rates apply provided they do not occupy a seat - Considered to be a lap child
At time of booking, Cruise ship passengers must provide ship name
Operates in all weather conditions, please dress appropriately
Moderate tour - Involves walking over relatively level terrain, possible gravel, lava or uneven ground. Comfortable walking shoes & light jacket recommended.
Worry-free Shore Excursion:
We will ensure your timely return back to the ship in Hilo Pier for this activity. If your ship is delayed and you are unable attend this activity, your money will be refunded. See our terms and conditions for full details.
Exact departure time may vary depending on the cruise ship's disembarkation time.
Can only be booked by cruise passengers
Reisplan:
Active Volcano- Kilauea Volcano
Volcanoes National Park
Visitor Center
Walk through a Lava Tube
Steam Vents and Sulfur Banks
Overlook the massive caldera
Kilauea Iki crater lookout
See Rainbow Falls
Tour a Macadamia Nut Farm
Akatsuka Orchid Gardens 
Stroll a Black Sand Beach
Voucherinfo
Voor deze activiteit kunt u een papieren of een elektronische coupon tonen.
Wat is dit?
Informatie lokale operator:
Volledige informatie over de operator, inclusief telefoonnummers op uw bestemming, wordt vermeld op uw bevestigingsvoucher. Onze productmanagers selecteren alleen de meest ervaren en betrouwbare operators op iedere bestemming. Maakt u zich geen zorgen, dit is voor u geregeld.
---
Als u ten minste 7 dag(en) voor het geplande vertrek annuleert, worden er geen annuleringskosten gerekend.
Als u tussen 3 en 6 dag(en) voor het geplande vertrek annuleert, worden er annuleringskosten op basis van 50 procent gerekend.
Als u binnen 2 dag(en) voor het geplande vertrek annuleert, worden er annuleringskosten op basis van 100 procent gerekend.