This tour combines two important must-sees in the city as well as a visit to the famous Great Wall of China. The Tian'anmen Square and Forbidden City are at the center of Beijing. Being one of the top 10 largest city-center square in the world, the Tian'anmen Square mainly consists of two parts, the Tian'anmen Gate and the Square itself which includes some iconic buildings on and around it. The Forbidden City was the place where the 14 Ming Emperors and 10 Qing Emperors of China resided for almost 500 years. Having been off-limits to the commoners for centuries, it was officially opened to the public in 1925 as a public museum. This tour will also take you to the section of the Great Wall at Mutianyu, the most beautiful and less crowded section of the Great Wall in Beijing. It is located in Huairou District, about 52 miles northeast from downtown Beijing. Two ways cable car is also included to let the travelers spend more time and energy on the Wall instead of walking up there.
Talen tour
Gratis ophalen/afzetten bij hotel inbegrepen
Informatieve, vriendelijke en professionele gids
Vegetarische maaltijdoptie beschikbaar
Pick up at 8:30am from you hotel to start the first attraction: Tian'anmen Square,a large city-center square in the world. It has great cultural significance as it was the site of several key events in Chinese history. The Square is 880 meters from south to north and 500 meters from west to east, covering an area of 44 hectares. You will see some of the iconic buildings in Beijing, like the Front Gate, Chairman Mao's Mausoleum, Monument to the People's heroes, Great Hall of the People, Tian'anmen Gate and National Museum of China.

Then walk north to the Forbidden City, the place where the Ming and Qing Emperors resided for more than 500 years. It is the largest and best-preserved Imperial Palace in the world. The Forbidden City covers an area of 72 hectares with a total floor space of 163,000 square meters. It is rectangular in shape, 961 meters from north to south and 753 meters from east to west, surrounded with a 10-meter high wall and encircled by a 52-meter wide moat.

Driving 1.5 hours to have lunch in a nice non-tourist restaurant near the Great Wall. Then start the 1.5-2 hours hiking at Mutianyu, the most beautiful section of the Great Wall and less touristy. The Great Wall at Mutianyu was built and restored in the early Ming Dynasty (1368-1644), on the remnants of a Wall originally built in the Northern Qi Dynasty (550-577). Cars have to stop at the foot of the mountain and visitors need to take the shuttle bus both ways to and from the parking lot. From the parking lot, it takes about 10 minutes to get on the cable car station and another 5 minutes to get on the actual Wall.

Afterwards, you will be dropped off at your hotel.
---
Recente fotos van deze tour
Private Day Tour: Tian'anmen Square, Forbidden City and Mutianyu Great Wall
---
Selecteer een maand om de beschikbaarheidskalender en vertrekinformatie te bekijken.
Vertrekpunt:
Centrally located hotel in Beijing
Gegevens terugreis:
Returns to original departure point
---
Klik op de link hieronder als u de prijs en beschikbaarheid wilt controleren op de reisdatum die uw voorkeur heeft. Onze prijzen worden voortdurend bijgewerkt, zodat we u altijd de laagst mogelijke prijs kunnen bieden.
1 Person

Code: TG1

Price for a group of one traveler

2 Persons

Code: TG2

Price for a group of two travelers

3 Persons

Code: TG3

Price for a group of three travelers

4 Persons

Code: TG4

Price for a group of four travelers

5 Persons

Code: TG5

Price for a group of five travelers

6 Persons

Code: TG6

Price for a group of six travelers

7-9 Persons

Code: TG7

Price for a group of seven to nine travelers

10-15 Persons

Code: TG10

Price for a group of 10-15 travelers
---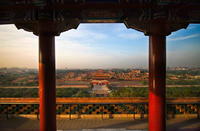 Forbidden City

Inbegrepen:
Round-way Cable Car/Toboggan fees

Experienced English-speaking guide
Quality local Chinese Lunch
Hotel pickup and drop-off
Entrance fees
Bottled water
Niet inbegrepen:
Travel Insurance
Gratuities (optional)
Aanvullende informatie:
Confirmation will be received at time of booking
There is no Children Price, two adults could bring maximum 1 child / under 1.2m(47.3in) for free (exclude show tickets; otherwise, child needs to pay the adult fees). We would also change the vehicles accordingly to make sure if it is spacious enough. If you will bring a child under 1.2m, please make sure to choose the option of 2 adults and specify the heights of the child under "Special requirement" when checking out.

Passport is needed to get into the Forbidden City, and your tour operator needs each traveler's name and passport number to book ticket online in advance.
This is a private day tour, there is no shopping stop included. Only legal vehicles in good condition, as well as experienced chauffeur and guide are being provided.
Voucherinfo
Voor deze activiteit kunt u een papieren of een elektronische coupon tonen.
Wat is dit?
Informatie lokale operator:
Volledige informatie over de operator, inclusief telefoonnummers op uw bestemming, wordt vermeld op uw bevestigingsvoucher. Onze productmanagers selecteren alleen de meest ervaren en betrouwbare operators op iedere bestemming. Maakt u zich geen zorgen, dit is voor u geregeld.
---
Als u ten minste 7 dag(en) voor het geplande vertrek annuleert, worden er geen annuleringskosten gerekend.
Als u tussen 3 en 6 dag(en) voor het geplande vertrek annuleert, worden er annuleringskosten op basis van 50 procent gerekend.
Als u binnen 2 dag(en) voor het geplande vertrek annuleert, worden er annuleringskosten op basis van 100 procent gerekend.