The Umbwe Route is surely the steepest approach route on Kilimanjaro. From Umbwe village on the south side of the mountain, the path leads through thick forest onto a steeply climbing ridge, with alpine terrain and a mix of hiking and scrambling. It is only suitable for the physically fit, and experienced hikers. You will overnight in the tents on the mountain. At the time, you rise into the moorland, with the trail offering stunning views of the glaciers and the summit which make it appear "overhead".
Talen tour
Kom in contact met wilde dieren
Inclusief alle toegangsprijzen
Geleid door een plaatselijke gids
Meerdaagse trip
DAY 1 UMBWE GATE ~ UMBWE FOREST CAMP
The climb commences at the small gate above Umbwe Village, then for an hour winds along a gentle track until a signboard announces "Umbwe". Six hours ascending through the dense forest of rubber trees and giant fig trees, scrambling up steep sections of roots and rock will bring you to a forested campsite, with some caves nearby. No water available at this campsite, so you must carry from the gate all the water needed for drinking, food preparation and cleaning. Arrive to a hot dinner in your mess tent.

DAY 2 UMBWE FOREST CAMP ~ BARRANCO CAMP
You will be woken with a steaming cup of tea or coffee at around 6am, and then after breakfast continue steeply through the forest. Soon the taller trees will give way to Giant Erica and Heather, and the air will become drier. The ridge line forms steeply on this day, and on either side of the trail, the terrain drops away steeply. At some point the forest and the clouds will part to give you a fabulous view of Uhuru Peak, seemingly "overhead". After lunch, you will encounter giant groundsels, seemingly guardians of untouched treasures. After 5 to 7 hours of trekking you reach camp.

DAY 3 BARRANCO CAMP ~ KARANGA CAMP
Today you trek to Karanga Valley Camp, at 13,000 feet, between Barranco and Barafu Camps. This day has proven to be very important for acclimatization. The day begins with a scramble up the steep 'Barranco Wall', then traversing up and down the slopes of valleys which have carved their way into the mountain's southern face. You reach the Karanga Valley after 3-4 hours of trekking for a hot lunch.

DAY 4 KARANGA CAMP ~ BARAFU CAMP
From here the trail turns steadily uphill. The temperature will grow colder and the landscape more sparse as we near Barafu Camp set on a small, exposed flat area on a ridge, acting a base camp from which you will make your summit attempt at midnight. Total trekking time is 4-5 hours, with a hot lunch upon reaching camp. Eat and drink as much as possible before retiring early to your tent for rest and sleep.

DAY 5 BARAFU CAMP ~ UHURU PEAK ~ MWEKA CAMP
The steaming hot drink will arrive very early on this day. A midnight wake-up call is the start of a juggernaut (12-17 hours of trekking). You begin trekking at 1am. The winding path of endless switchbacks will take form and shape in the shadows of the Ratzel and Rebman glaciers at early dawn. After about 6 hours of walking, you will come to the edge of the crater, at Stella Point (at 19,000 ft), which marks the end of the steep track. From here, there is a gentle slope about 1 hour to Uhuru Peak. After a short time at the summit, descend the steep scree trail back to Mweka Camp for the night.

DAY 6 MWEKA CAMP ~ MWEKA GATE
Descend straight to the gate (2-3 hours), where you'll have lunch and will be awarded climbing certificates.
---
Selecteer een maand om de beschikbaarheidskalender en vertrekinformatie te bekijken.
Vertrekpunt:
Arusha Chini
Vertrektijd:
Please contact your service provider to reconfirm your departure time
---
Klik op de link hieronder als u de prijs en beschikbaarheid wilt controleren op de reisdatum die uw voorkeur heeft. Onze prijzen worden voortdurend bijgewerkt, zodat we u altijd de laagst mogelijke prijs kunnen bieden.
---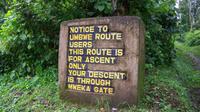 Umbwe route ascent trail

Inbegrepen:
Accommodation as per itinerary (bed and breakfast on the first night)
Bottled water
Driver/guide
Transport by private vehicle
Porters
Chef-Cook
Airport transfers
Niet inbegrepen:
Alcoholic drinks (available to purchase)
Gratuities (Optional)
Visa fees and flight tickets
Costs of items of personal nature
Mountain hiking gears (though for hygienic purposes many guests prefer bringing their own gears)
Aanvullende informatie:
Confirmation will be received at time of booking
Please advise any specific dietary requirements at time of booking
A maximum of 12 people per booking
Not recommended for participants with back problems
Not recommended for participants with heart complaints or other serious medical conditions
Passport name, number, expiry and country is required at time of booking for all participants
A current valid passport is required on the day of travel
You MUST confirm and obtain any visa requirements prior to border crossing. All visa requirements are the sole responsibility of the traveler
Voucherinfo
Voor deze activiteit kunt u een papieren of een elektronische coupon tonen.
Wat is dit?
Informatie lokale operator:
Volledige informatie over de operator, inclusief telefoonnummers op uw bestemming, wordt vermeld op uw bevestigingsvoucher. Onze productmanagers selecteren alleen de meest ervaren en betrouwbare operators op iedere bestemming. Maakt u zich geen zorgen, dit is voor u geregeld.
---
Alle verkopen zijn onherroepelijk en bij annulering wordt 100% van de kosten doorberekend.