It's a breathtaking 8-minute journey to the peak of Mount San Jacinto aboard the Palm Springs Aerial Tramway. Along the way, you'll travel through 5 vegetation zones, from arid desert to alps.
At the top, the incredible desert views are surrounded by 54 miles (87 km) of hiking trails in Mount Jacinto State Park. The restaurant and cafeteria at the summit mountain station are surrounded by terrific views. The headquarters for the state park are also at the mountain station.
In winter there's cross-country skiing or snowshoe treks, and on summertime guided nature walks you might spot deer and other wildlife.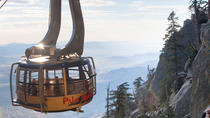 Op een hete zomerdag kunt u in Palm Springs het beste een ritje maken vanaf de hete woestijn met de Aerial Tramway 1790 meter omhoog naar het koele klimaat van ... Meer info
Locatie: Palm Springs, Californië
Duur: Flexibel