Ground Zero is een gebied van ruim 6 ha op het zuidelijk deel van Manhattan, waar tot de aanslag op 11 september 2011 de twee torens van het World Trade Center stonden. Het meest heilige stukje Amerika is nu een bouwplaats, waar de contouren van de Libeskind Memory Foundation zichtbaar worden.
De herbouw omvat een nieuwe WTC-toren, een herdenkingsmuseum en -plein. De oorspronkelijke afdrukken van de twee torens van het World Trade Center blijven zichtbaar bewaard als twee enorme kunstwerken in de vorm van vijvers met watervallen.
Of u nu de wandeltocht neemt, de Ground Zero Museum Workshop bezoekt of het eerbetoon bij Church Street bekijkt, een bezoek aan Ground Zero is een emotionele en verpletterende ervaring die u niet snel zult vergeten. Het is eerder een plek voor bezinning en respect dan voor het maken van foto's.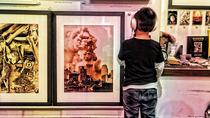 Breng een bezoek aan de Ground Zero Museum Workshop voor een intieme en emotionele inleiding van het 'Real Ground Zero' en dingen die u niet te zien krijgt in ... Meer info
Locatie: New York City, New York
Duur: 90 minuten
Taal:

Engels