Set in southeast Utah's high desert, Canyonlands National Park includes more than 300,000 acres of rugged landscape. The Green and Colorado rivers divide the park into four distinct districts.
Although the Island in the Sky district sits on sandstone cliffs more than 1,000 feet above the surrounding area, it is easily accessible to visitors via a 34-mile roundtrip scenic drive that offers multiple overlooks and even some picnic spots. There are also hiking opportunities and a four-wheel-drive road.
If you have a full day, the Needles district (in Canyonlands' southeast corner) is also a good choice for a visit. A scenic drive takes you past the visitor center, offers viewpoints and provides many pullouts close to short hiking trails.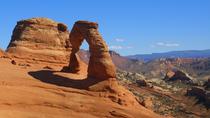 Breng tijdens deze tocht zeven dagen en zes nachten door in de populairste nationale parken van de Verenigde Staten! Het avontuur duurt een hele week en u zult ... Meer info
Locatie: Las Vegas, Nevada
Duur: 7 dagen/6 nachten
Van
USD 948,99
USD 998,99
Bespaar:USD 50,00