Kauai has no shortage of sun and sand, but it also has the third highest level of rainfall of anyplace on the planet -- and that means waterfalls.
Made iconic by its appearance in the opening credits of Fantasy Island, Wailua is what comes to mind when you think of picturesque Hawaiian waterfalls. The falls are 80 feet of rushing water descending from a sheer cliff, flowing into the Wailua River.
The backdrop to Elvis Presley in Blue Hawaii, Opaeka'a Falls is located on the south end of Kapaa Town, Opaeka'a can be seen from the highway as well as from a little known trail. The trail is a bit treacherous, so be cautious if you choose to venture forth.
If you're up for a little more adventure, Hanakapi'ai Falls is well worth the trek. The trail to the falls is not for beginners and the final leg of the hike is a strenuous multi-hour trek, but the view will reward the effort.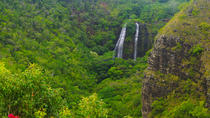 Vlieg vanuit Oahu naar Kauai om de natuurlijke schoonheid van dit weelderige eiland te verkennen, waaronder de beroemde, schilderachtige Waimea Canyon met de ... Meer info
Locatie: Waikiki, Oahu
Duur: 15 uur
Taal:

Engels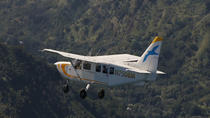 Kies bij het boeken 1 passagier om uw prijsopties te bekijken en bewonder Kauai tijdens een luxe sightseeingvlucht! Tijdens deze vlucht van ongeveer ... Meer info
Locatie: Lihue, Kauai
Duur: 65 minuten
Taal:

Engels