TheThe Atlantic port of Fort Lauderdale takes in a Venetian network of canals dotted with yachts and lined with marinas.
Budding swimmers can paddle safely at the International Swimming Hall of Fame on the Fort Lauderdale beach, with an on-site museum and swim school aquatic complex. Browse the world's largest indoor and outdoor trash and treasure market, complete with funfair rides and drive-in movies, at the 14-screen Fort Lauderdale Swap Shop and outdoor theatre.
View the area's over-the-top millionaires' mansions from the water on a sightseeing cruise of the port and yacht marina. If there's one must-do in Fort Lauderdale it's a dinner cruise aboard the fun and fabulous Jungle Queen Riverboat, for revue entertainment and a nonstop.
Make the most of Miami, just down the road, with the Go Miami Card, packed with Miami, Everglades and Fort Lauderdale tours, attractions and museums. Swamp safaris to visit the traditional home of the Seminole Indians.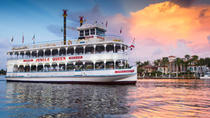 Bevaar de waterwegen van de New River bij Fort Lauderdale op een rivierboot en stop bij Jungle Queen, een prachtig tropisch eiland waar u ara's, zeldzame ... Meer info
Locatie: Fort Lauderdale, Florida
Duur: 3 uur
Taal:

Engels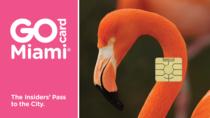 Verken Miami op eigen beweging met de flexibele Go Miami Card. Doe zo veel of zo weinig sightseeing als u wilt, in uw eigen tempo en tegen een zeer ... Meer info
Locatie: Miami, Florida
Duur: 1, 2, 3 of 5 dagen
Taal:

Engels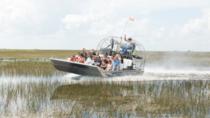 Houd u goed vast voor de meest populaire moerasboottour van de Florida Everglades in Sawgrass Recreation Park! Een spannende moerasboottour is de perfecte ... Meer info
Locatie: Fort Lauderdale, Florida
Duur: Varieert
Alle Fort Lauderdale Suggested Itineraries-tours en -tickets bekijken